"So where did you go for spring break?" "What's a good tourist destination along the east coast?" "It's beach season! Where is your favorite beach?"
You've probably heard these exclamations and questions while you were driving or biking along with Horry County, right?
Or perhaps you may have been asked by tourists at the Myrtle Beach International airport in South Carolina about any famous tourist hotspots or where they could spend their beach days at.
This country boasts some famous beaches, extensive historical literature, breath-taking national parks, diverse cultures, and an increasing number of ex-pats (particularly Chinese and Indian tourists and students).
The east coast boasts an array of tourist attractions and cities. Some of them are New York City, Miami, and Acadia National Park. Interestingly, the east coast of America, which begins from Maine in the north to Florida in the south, boasts some beautiful places; the east coast, as some put it, "are begging to be explored."
Some of the bustling beaches here are Myrtle Beach, Atlantic Beach, and Surfside Beach (although this place is technically a town in South Carolina).
Actually, all of these are coastal cities housing some of the best beaches in America. Here, we're going to look at one, Myrtle Beach, and why it's a destination worth visiting.
About Myrtle Beach
Myrtle Beach, the world's golf capital, is a coastal city in South Carolina and one of the major tourist hubs of America.
A favorable sub-tropical climate, a huge stretch of sandy beaches, dozens of golf courses, and thousands of tourists are what make this city a "happy place" for many travelers. Upon arrival at Myrtle Beach International, many tourists get the feeling that their vacation has already begun, even before they collect their bags.
Voted "The Best Small Airport in the U.S.," Myrtle Beach International connects to 50 nonstop destinations in the country and provides some of the best airfare deals in the whole of South Carolina. Its airbase, the Myrtle Beach Air Force Base, is currently not operational.
Speaking on similar lines, the famous racing track Myrtle Beach Speedway saw its last race in August 2020. At Myrtle Beach, some of the well-known education institutes are the Coastal Carolina University and Horry Georgetown Technical College. From a climate perspective, Myrtle Beach, like many other cities in South Carolina, has seen a fair share of summer thunderstorms.
Now, how about we zoom out and learn a little more about South Carolina? After all, it houses this famous beach city. It wouldn't matter if we knew a little about one of the best states to retire at. If we talk about schools, there is the Carolina Forest High School. If you are into music festivals, then the Carolina Country Music Fest is an event worth going to. This music festival is held every year in June.
Spring Break
For spring breakers, Myrtle Beach is a top spot in South Carolina. Many bowling events are often considered the highlight. For the young artists and dancers, Crocodile Rocks, Senor Frogs, Bourbon Street, and Malibu's Surf Bar are some of the places to break a leg. Water sports, dolphin cruises, and parasailing are some of the beach activities enjoyed by the students on their break.
After all, students need to let loose and break off from the hectic schedules rolling at 8:00 Am-3:30 Pm, various academy and school-based sessions, and burning the midnight oil. This is seen every year when a student from Horry County Schools (HCS) hit the beaches and jet ski their way onto the ocean. Speaking of school, let's divert our attention for a while. Shall we?
Horry County Schools' students are those that study at the 56 schools that make up the Horry County district of South Carolina. With excellent classroom management, baseball programs, and career learning programs, HCS graduates are sometimes considered to be the brightest and talented in South Carolina.
The superintendent of HSC is Dr. Rick Maxey, who obtained his Ph.D. from the University of South Carolina. While some may argue, it is worth mentioning that each has its commendable merits and demerits irrespective of which school or university one attends.
Where to stay?
For travelers and locals alike, Myrtle Beach accommodates people in many top-rated hotels and vacation rentals. Some of the best names to lodge in are Courtyard by Marriott Myrtle Beach Barefoot Landing, Vacation Myrtle Beach, Ocean Forest Colony, Dayton House Resort, and Marine Inn at Grande Dunes. In general, at Myrtle Beach (and South Carolina), many resorts have an ocean view as its main and common feature, among others. Many of these beach vacation homes give tourists and vacationers the ultimate beach experience.
Popular neighborhoods of Myrtle Beach
Myrtle beach
Cherry grove beach
The Dunes
Yaupon circle
Crescent beach
Ocean drive beach
Westwood estates
Arcadian Shores
Barefoot
Broadway
Little river
Murrells inlet
Pawleys Island
Camping options
If you are a Myrtle Beach resident, an adventure seeker, and are in the mood of channeling your inner Bear Grylls, there are many campgrounds for locals and tourists alike. Myrtle Beach State Park and Huntington Beach State Park, and Lakewood Camping Resort are the first few names to host a number of nature centers, water parks, fishing piers, and beach clubs.
For a beach camping getaway, head to Ocean Lakes Family Campground. At the southern end of Myrtle Beach, Ocean Lakes houses more than 850 oceanfront, lakeside, and shaded campsites. Some areas have bathroom and shower facilities as well as cable TV and Wifi services.
If you are looking to spend your summer months with a lavish beach experience, cracking a few cold ones with the boys, or sipping MaiTais in front of an illuminating sunset, Myrtle Beach's coastline is the place to be at. But don't forget your cold weather beach outfits if it gets chilly!
Places to dine
If you'd like to get a taste of the east coast, then Myrtle Beach once again checks the list of best steakhouses, hot deals, and exquisite seafood. In South Carolina, Myrtle Beach offers some of the best deals on various cuisines, and one can always get a hearty meal (no, not the Mac D), even if the budget is tight.
At Myrtle Beach, Angelo's Steaks and Pasta is considered a haven for meat lovers. They have bagged numerous awards, and even the owner, Angelo Antonucci, has been recognized as the "Restaurateur of the Year" by local and state chapters of the South Carolina Restaurant and Lodging Association.
Another, Sea Captain's House, serves guests low-country appetizers, salads, and desserts in front of the Atlantic Ocean. By starting off as a beach house for vacationers, this eatery has also earned the trust of many locals of Myrtle Beach and South Carolina.
Attractions & Things to Do
Myrtle Beach in South Carolina is the city to find the best attractions and to discover the best things to do.
1. The beach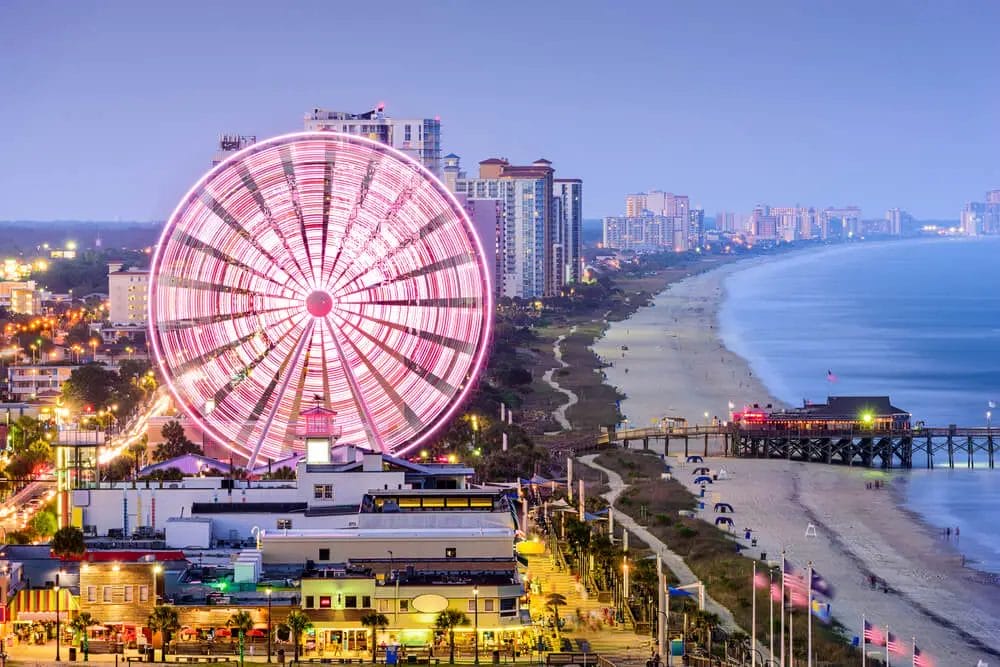 There are lots of attractions and thousands of fun activities on the beach. Visitors find beaches like their playground with over 60 miles of sand in the sparkling Atlantic Ocean. Myrtle Beach offers a ton of family-friendly options and give chance to the adults to feel like kids. They can enjoy adults shows, activities, entertainment, and more. Myrtle Beach in South Carolina is a lovely destination for a perfect honeymoon and a couple of vacations to relax after passing a stressful wedding session.
Myrtle Beach Oceanfront Boardwalk and Promenade
Myrtle Beach Oceanfront Boardwalk and Promenade is also another famous tourist hotspot. Land Shark Bar and Grill at Ocean Boulevard is the eatery to grab a bite at, if you are here. The menu here is basically American food, and a cold draft Land Shark is an unmissable one.
2. Golf
If you're looking to learn golf or "ace" a game with your friends, there are different kinds of golf clubs and award-winning golf courses to meet your needs. There are also mini-golf courses and celebrity golf courses, all perfectly designed for a vacationer or an aspiring actor. With millions of bookings and fun golf courses, Myrtle Beach is known as the premier golf destination of the United States. Prestwick Country Club, Aberdeen Country Club, and Arrowhead Country Club are some of the top names in the game.
3. Broadway at the Beach
Broadway at the Beach, a popular tourist destination in Myrtle Beach, is a shopping center and entertainment complex. This hub displays some of the finest art in theatre and hosts a number of family events. The Myrtle Beach Area Chamber of Commerce is also located nearby. There are also many amusement parks and restaurants to satisfy plenty of appetites. If you're a huge fan of Mark Wahlberg, then head over to Wahl burgers to enjoy delicious meals and try to luck out meeting the actor.
4. Sky Wheel
Sky Wheel is a 187-foot tall observation wheel at Myrtle Beach. This place which was once a standalone attraction, has now turned into a full-service entertainment venue.
5. Fishing
One of the great things about Myrtle Beach s that there are no limits to the types of fishing, and one does not always need a license for it. Saltwater fishing is the more common type of fishing among the locals, which is a given due to their location facing the Atlantic Ocean. Freshwater and inland fishing is seen at Intracoastal Waterway and Winyah Bay. Lastly, one can visit Georgetown County and Horry County to explore the option of pier fishing.
6. Carolina Opry
Carolina Opry, Asher Theater and the Calvin Gilmore Theater, and the Alabama Theater are some of the biggest hubs for music and art lovers.
7. Hollywood Wax Museum
Speaking of the itinerary, we must not forget the affordable activities at Myrtle Beach. Some of these cheap (or inexpensive) things to do would be to visit the Hollywood Wax Museum and the Vereen Memorial Gardens. The Wax Museum is considered a cheaper alternative to the infamous Madam Tussauds, where one can purchase inexpensive tickets and avail of group discounts.
8. The Alabama Theater
Myrtle Beach also houses many 12-Screen movie theaters and14-Screen Movie theaters. The Alabama Theater is a public theatre that hosts traditional country music singers and shows that are geared towards families.
9. Lulu's Beach Arcade
For anyone who has a game face and loves a self-celebration of wits and strength, Lulu's Beach Arcade is the attraction located at North Myrtle Beach.
10. Wicked Tuna
Wicked Tuna is located at the seafront at Murrells Inlet with a view of the Atlantic.
11. Ripley's Aquarium
Here's a place for marine science enthusiasts. Ripley's Aquarium is a great attraction for families, especially kids who like to get face-to-fin with marine life, watch penguin shows, and educate themselves on oceanography and marine biodiversity. Myrtle Beach Safari is another noteworthy mention for science enthusiasts and thrill-seekers.
12. Medieval Times
If you're game to dine while watching victors protect the throne, then tourists should visit the Medieval Times (pun intended!) at Myrtle Beach.
13. Pirates Voyage Dinner and Show
Music lovers who are also food lovers can head over to Pirates Voyage Dinner and Show, an eminent dinner theatre in Myrtle Beach.
14. Hopsewee Plantation
This is a well-known museum in South Carolina and has been visited by many tourists and African-American visitors. Sweetgrass basket weaving workshops are the highlight of this historic place. This tradition dates back to the 1700s which West African slaves were brought in the United States.
Hopsewee Plantations was a major rice producer long before the American Revolution and was also the birthplace of Thomas Lynch Jr., one of the signatories of the Declaration of Independence.
How To Find Free or Cheap Entertainment
There are lots of free things to enjoy on Myrtle beach. Most of the piers are free of cost. Many more free things to explore in Myrtle beach will complement the next gateway to the grand strand. There are lots of art museums that may be hidden gems for free. Vereen Memorial Historical garden and offers a quiet hustle free entertainment for free. Anyone can explore the markets for an upscale shopping experience.

Hi, I'm Ryan Nelson! I live in the Hamptons, out on Long Island, near Ponquogue Beach. The beach is a place where I can find peace and serenity. It's a place where I can sit and clear my head. The waves crashing on the shore somehow helps me to relax, while also reminding me that I am far from the stressors of daily life.