Clearwater Beach is a beautiful white sand beach glistening on the Gulf Coast, known for its long, pristine, white-sand shores that attract thousands of visitors every year that come to Tampa Bay.
There are so many things to do in Clearwater Beach so keep reading as we discover the many different activities you and your family can participate in at Clearwater Beach and the beautiful areas of Pinellas County.
Ideal for spring break
Clearwater Beach is an ideal spring break destination. It is a very family-friendly spring break destination, and it even won America's Best Beach – TripAdvisor in 2019. Clearwater Beach is close to Tampa International Airport and is a very convenient location for your summer getaway. Who wouldn't want to spend their spring break vacation on Clearwater Beach? It's one of the best beaches in America!
The beach, and the entire Pinellas County and Tampa Bay, are bustling with people from all over the United States and other countries who flock to enjoy the pristine waters and sugar-like sand.
Average temperatures in Clearwater get to an overall average of a high 83 degrees and a low 63 degrees which means that anything from a cool and casual dress code to swimsuits and shorts will work, the beach conditions are out of this world. If it gets cold on your trip- make sure you pack some beach gear so you have cold beach weather clothes!
Where to stay in Clearwater Beach
Clearwater Beach is just across Clearwater, FL so some of the nicest places to stay are just minutes away from the beach. Perhaps the best-rated neighborhoods in Clearwater FL are Harbor Woods Village and Harbor Oaks that are truly considered to be one of the safest and top-notch places to stay in Pinellas County and Tampa Bay. These neighborhoods are jam-packed with restaurants and beautiful scenery so even if a beach is not your thing you can just stroll around the neighborhood and enjoy its many amenities.
If you are craving that ocean and palm-lined beach walk promenade view, the Opal Sands Resort is the best-rated Clearwater beach hotel and beach resort and it overlooks the beautiful sandy beaches and blue water.
For those who like more laidback neighborhoods, Rainbow Farms North offers beautiful golf courses and country clubs.
Camping and RV options in Clearwater
The best-rated RV resort in Clearwater is the Clearwater Travel Resort. It is a comfortable pet-friendly resort with a lovely outdoor pool and offering many facilities like laundry, parking, and of course fast Wi-Fi.
Places to dine
Clearwater Beach Attractions & Things To Do
1. The Black Pearl Of Dunedin
If you're looking for a top-notch fine dining restaurant, experience the Black Pearl of Dunedin's beautiful assortment of food. The Black Pearl is truly a place of high-end culinary experiences and your taste buds will be elevated to the heavens.
2. Frenchy's Rockaway Grill
If you're looking to stay away from the fine dining and dig your fingers into an amazing grill experience, then Frenchy's Rockaway Grill will make sure to enchant you with their local seafood beautiful views and some of the most entertaining live music you can find in Clearwater
3. Columbia Restaurant Sand Key
One of the oldest restaurants in Clearwater is a traditional long-running Spanish diner called Columbia Restaurant Sand Key. You will definitely not be disappointed by their menu, they have it all, from local seafood to stunning sandwiches, all packed in exceptional service and stunning interiors.
Attractions and things to do
We are sure you did not come to Clearwater just to wine and dine. There are so many different things that you can do in this place that would blow your mind. Let's dig into some of the most popular attractions and things to do in Clearwater:
1. The beach itself
Clearwater Beach will truly impress you with its beautiful pristine water and white sand which is truly surprising given how many people come to this area. Clearwater has it all, from beaches with shallow water to private cabanas, perfect for your Instagram feed! You can spend a lovely day at the beach and visit beautiful piers and beach parks.
If you love fishing, check out Pier 60 and immerse yourself the local fishing traditions. If you're all in for that sunset beach walk, The Sand Key Park is not far away and it's truly worth the effort. You can explore the Sand Key park with a beach bike and experience the mesmerizingly beautiful beaches for yourself.
2. Sailing around St. Pete/Clearwater
One of the most popular things to do in Clearwater and around the St. Pete area is cruises. You can do day cruises, sunset beach walks, and lunch cruises. You name it. Cruises offer you a different perspective of the area and its beautiful sights so they are more than worth the try.
3. Enjoy sunrise or sunset around Saint Petersburg and Clearwater
Sunsets in this area are spectacular and a feast for the eyes. Even if you have only one day in Clearwater, you cannot afford to miss the beautiful ruby red sunsets. Have a romantic beach walk on the long beach walk promenade or grab your picnic basket, find yourself a good spot and soak in the spectacular colors when the sun hits the horizon.
4. Capitol theatre
Capitol Theatre is truly one of the most central landmarks in Clearwater. If you want a laidback evening with your loved ones, check out the Capitol Theatre. They will do their very best to bring entertainment from all over the United States and the world for your pleasure. Most of the events start around 8:00 PM which is perfect after a long day at the beach.
5. Kayaking the waters
Kayaking is very popular in Clearwater and there are many kayaking options for you in the area. You can kayak through the mangroves or rent your own kayaks and go on your own adventure, it's up to you. Despite being a very densely populated area, Clearwater is also known for its beautiful and pristine environment so rest assured, you will encounter vibrant flora and fauna on every corner.
6. Exploring the Pinellas County Trail
If you would like to explore the lesser-known parts of Clearwater, you can explore the Fred Marquis Pinellas Trail that encompasses most of Pinellas County. Grab a bike and explore these 45 miles-long trails that passes through several towns, and soak in the beautiful, lush greenery of the area.
7. SkyZone Trampoline Park
If you're bringing your children, the SkyZone Trampoline Park will be more than enough to entertain them, and you as well. With plenty of indoor activities, you can rest assured that there will be no lack of family entertainment.
8. Captain Memo's Pirate Cruise
Captain Memo's Pirate Cruise is one of the most interesting things we encountered in Clearwater. This cruise will take you on a 2-hour adventure through some of the most mesmerizing parts of Clearwater. What's even better is that they offer face painting, treasure hunts, and all sorts of water games and dancing!
9. Congo River Miniature Golf Course
If you prefer a more laid-back experience or just need that one afternoon to relax and clear your mind, the Congo River Miniature Golf Course will provide just that. And if your family prefers a more adventure-themed experience, the golf courses are even equipped with waterfalls, scavenger hunts and a plethora of arcade games.
10. Frenchy's Off the Hook Giftshop
Are you thinking of finding a nice souvenir from your trip to Clearwater? Not to worry, Frenchy's Off The Hook Gift Shop is unlike any other gift shop in Clearwater. It is full of all sorts of kooky, unique collectibles. You will be able to find everything from artworks the local hot sauces, colorful shirts and hats, you name it!
11. Indoor Surfing – Surf Style's Flowrider
What a perfect way to practice your surfing than using an indoor machine that lets you practice without exposing you to any dangers that you might experience on the beach. the indoor surfing machine is adaptable to all ages and provides water surfing at all levels. If you can manage the indoor surfing machine, we think you would be fully able to master the waves of the Clearwater beach. Don't be discouraged if you're not good at surfing, trained experts are always on the spot to make sure that you ride those waves like a pro.
12. Moccasin Lake Nature Park
Moccasin Lake Nature Park is a very peaceful park that offers stunning walking trails, beautiful wood paths, and natural exhibits, perfect for all ages. At the nature park, you are guaranteed to have a blast and learn all about the animals living in the area and the beautiful flora of the lake and Tampa Bay.
13. Sea Life Safari
Sea Life Safari Nature Cruise offers a 90-minute safari cruise around the local estuaries. If sea life is your thing and you are a fan of marine biology or want to learn more about it, try out this educational tour and explore everything from the local marine life. Visit the stunning shell island and learn how the area is protected by marine scientists.
14. Deep-Sea Fishing Tour in the Gulf of Mexico
St. Petersburg-based Deep-Sea Fishing Offshore Tour in the Gulf Of Mexico will take you a bit further away from the mainland and you are guaranteed to enjoy a six-hour tour of the region's wild beauty. If you're a fishing aficionado, enjoy this comfortable ride and enjoy fishing in a pristine environment.
15. Dolphin Sightseeing Tour
Did you know that dolphins love to frequent this area? Plus, they are very engaging with the visitors. Many different agencies provide dolphin sightseeing and encounter cruises and your family will surely love meeting these intelligent, playful creatures. Here's another fact for you! Clearwater's favorite dolphin, Winter, was even a star of the blockbuster movie the Dolphin Tale!
16. Tarpon Springs – 'The Sponge Capital of the World'
If you're a history geek, you might want to check out Tarpon Springs sponge docks and an old sponge factory. Learn all about the local sponge industry of Tampa Bay that was once one of the largest in the world!
17. Tropical Party Cruise with Buffet & Drinks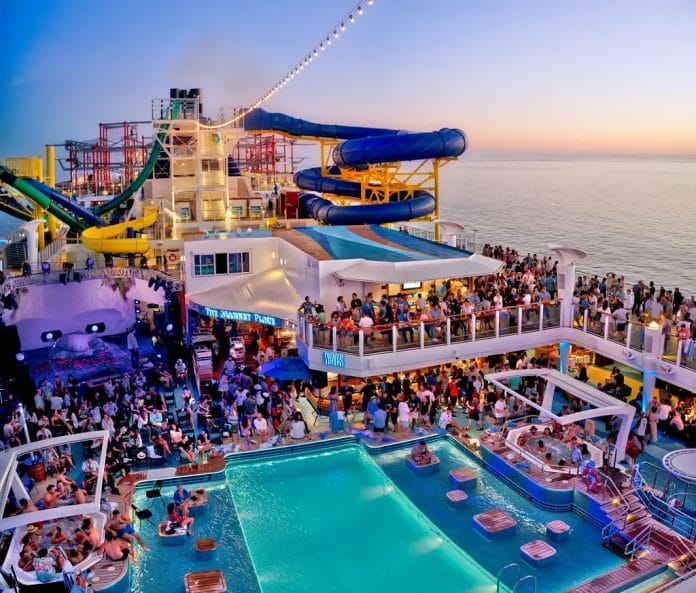 You can't end your Clearwater experience without a Tropical Party Cruise. Go with a bang and enjoy the luscious buffet with amazing drinks.
Wrapping up
There you have it! We hope you are prepared for your stunning trip to Clearwater. Regardless of which one of these activities you decide for, rest assured that you will fall in love with this mesmerizing place that will hold on to you for years to come.

Hi, I'm Ryan Nelson! I live in the Hamptons, out on Long Island, near Ponquogue Beach. The beach is a place where I can find peace and serenity. It's a place where I can sit and clear my head. The waves crashing on the shore somehow helps me to relax, while also reminding me that I am far from the stressors of daily life.