We all like going to sandy beaches when it is hot, and you want to relax. However, finding beautiful beaches which have stunning views and highly blue water can be difficult. Some very popular beaches might not be the perfect beach for you!
Therefore, here is a list of beach destinations that might become your next favorite beach in the United States. This list contains beaches from North Carolina to beaches from New York and all the places in between.
Let's unleash your inner beach bum!
The 27+ Best Beaches In The U.S. To Visit On Vacation
Clearwater Beach, Clearwater, Florida
Clearwater Beach is a white beach with white sand and clear turquoise water. This beach draws visitors for jet-skiing, parasailing, and other such endless activities.
This family-friendly beach also has cafes lining it up along with seafood restaurants.
People love this beach for having exotic shopping places, entertainment, and food, making them come back again and again to this sandy beach. Check out some of our favorite party beaches in Florida!
West Palm Beach, Florida
West Palm Beach, Florida is another fun, sandy destination. There are many fun activities for the whole family, including water parks, safaris, and botanical gardens. There's also a variety of restaurants that offer everything from fast food to fine dining. You can also find some unique shops in this area.
If you're looking for somewhere to go in the winter from a cold state, check out the warmest beaches in Florida in December and January.
Navarre Beach, Florida
There are many things to do and places to visit when you're on vacation in Florida. Navarre Beach is a great place to relax and enjoy a beautiful beach.
There are many things to do in the area, no matter if you're looking for a long walk or a spot to soak up some sun. The beaches are well-known for their crystal clear water and white sand. It's one of our favorite white sand beaches in Florida.
Fernandina Beach, Florida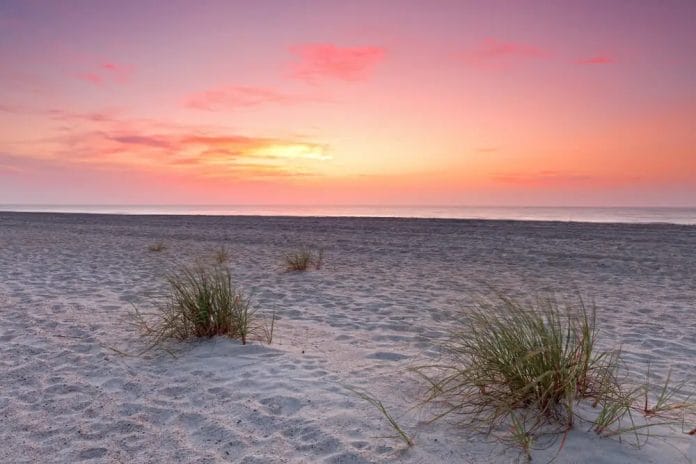 Fernandina Beach is a small coastal city in Florida. Like many other coastal Florida cities, it is known for its beautiful beaches and warm weather. Fernandina Beach also has a rich history and culture – from the historic homes to the annual Elvis Festival.
The city of Fernandina Beach, Florida is a great place to live because of its rich history, beautiful beaches and friendly people. It's also conveniently close to Jacksonville and all the activities it has to offer.
This is a great spot for retirees and families who are looking for amenities without the big city life. It offers shops, restaurants, hotels, museums and more! Make sure you pack your best beach tent! In addition, there are even a lot of nude beaches in Florida if you're feeling the need to be unencumbered.
Wrightsville Beach, NC
Wrightsville Beach in North Carolina is a top vacation spot in North Carolina. You can enjoy beautiful sunsets, and a boardwalk full of fun activities.
Get ready to have a great day in the sun with your swimsuit and some beach snacks
Delray Beach, Florida
To enjoy the best vacation in Florida, there are certain things you must do. Delray Beach is a small city located just north of Palm Beach that many people overlook when they visit Florida to vacation.
Four championship tennis courts are located in the nature preserve. There is also a large area of grassy land for relaxing and beach picnicking.
Orange Beach, Alabama
Orange Beach is the perfect place for a vacation because it has so many attractions to offer that are both historic and fun. There are plenty of great activities, beautiful beaches, and attractions that make it the ideal destination for families of all ages. Here's how to pose for pictures at the beach– a great way to remember your trip!
Vero Beach, Florida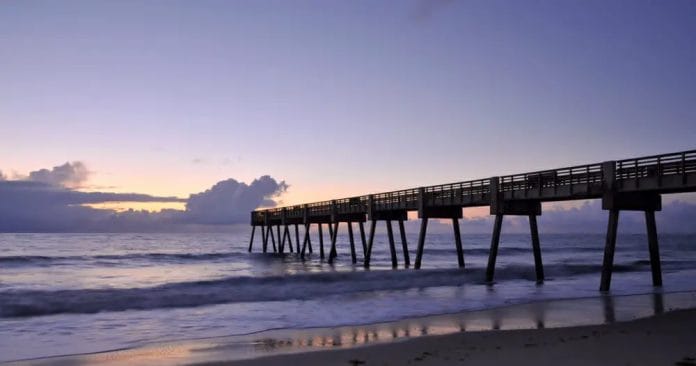 Vero Beach is an extremely popular spot for its stunning views and the natural, recreational and cultural events that are held there.
This beach is a great place to play volleyball, golf, and other sports.
The place is surrounded by many attractions and has miles of exotic Atlantic-facing sand beaches. Here's how to remove beach tar from your skin so that you're nice and clean before you get in the car to go home!
New Smyrna Beach
New Smyrna Beach makes for a wonderful beach vacation spot. This beautiful spot is known for its sandy beaches, water sports, fishing, and other activities.
This location is renowned for its breathtaking views and many art museums. It also has a variety of hotels, restaurants, seafood, gift shops and other amenities that make it a great vacation spot.
This is also a great spot to play casual golf, hike trails, enjoy the art scene, and much more. Let's learn more about New Smyrna Beach's white-sand beaches.
Siesta Key Beach, Florida
Because of its natural beauty, Siesta Key Beach is the most popular beach for tourists. The water is clear or turquoise depending on the year. There are usually good waves during all seasons.
You can also see hundreds of nesting seabirds at the Siesta Key Rookery. Even better, they offer rookery tours every morning. Maybe even make a bonfire on the beach– but check local laws first!
Laguna Beach, California
Laguna Beach is an icon of the Southern California coast. It's known for its beautiful and diverse landscape, its wide variety of fun activities, and in recent years, the city's booming culinary scene. Make sure you pack your best beach chair! Check out some of our favorite California party beaches.
Pensacola Beach, Florida
Pensacola Beach is one of the best beaches in Florida. With its gorgeous white sand and clear blue water, it has been deemed a Top 10 Beach in the world. Plus, it's not crowded like other Florida beaches. Pensacola Beach also has a small-town feel to it that most other beaches don't have because of its lack of high-rise buildings and hotels lining the shoreline. If you can't make it Florida, check out these backyard sand pools for your own private shoreline!
Rehoboth Beach, Delaware
Rehoboth Beach is a popular tourist destination in Delaware. It is surrounded by pristine beaches and offers visitors a variety of things to do.
The Rehoboth Beach Boardwalk is an iconic structure that connects the downtown area to the beachfront. This boardwalk is home to many shops, restaurants, bars, and entertainment venues. One can take in the sights at local museums or go for a coastal hike on one of the many trails in Rehoboth Beach.
The beaches are safe for swimming and offer plenty of space for sunbathing, fishing, windsurfing, and other water activities.
Pope Beach, Lake Tahoe, Nevada
This public beach has sand dunes and pine trees, making it a perfect place to have a picnic with your family and friends. Since it has calm water, it is also perfect to swim. Dogs are, however, not allowed on this beach. Lake Tahoe is also known as the Outstanding Natural Resource Water for having outstanding vegetation and yellow crest plants. This also means you have to be extra careful to preserve the life of its wildlife and only use portable gas grills in Lake Tahoe. Make sure you pack your best beach umbrella!
Coronado Beach, San Diego, California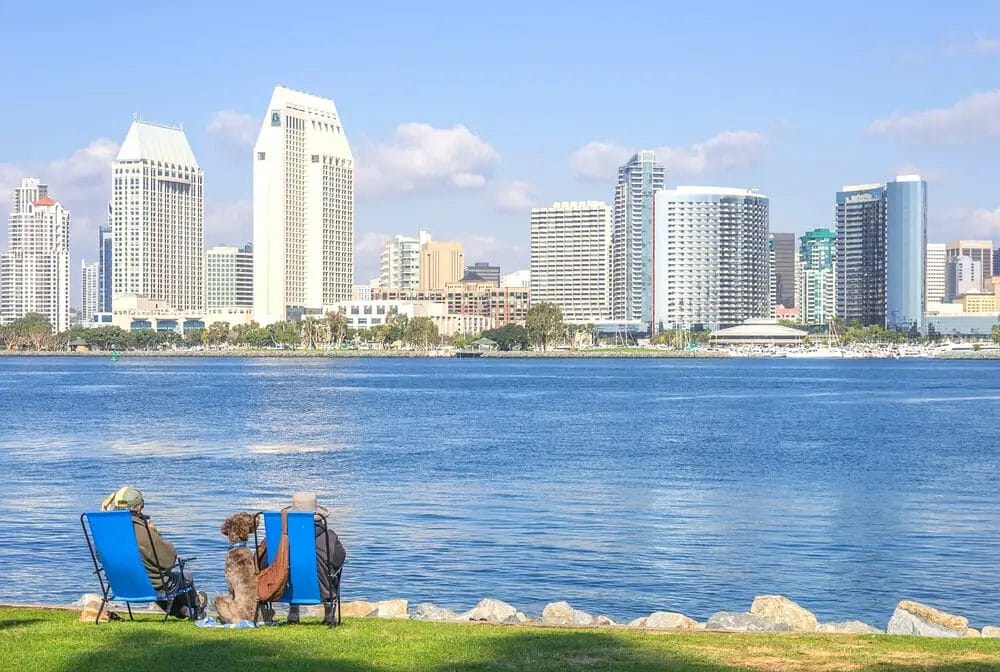 This urban beach is a popular destination for being able to host multiple outdoor activities. In addition to that, this beach literally sparkles! It has the mineral mica in its sand, which gives the illusion of its sand sparkling. Of course, this beach is great for water sports, but it also is perfect for taking pictures due to its breathtaking view. So if you want a perfect spot for a romantic gateway that has a Mediterranean climate all year round, then you should come here.
Pompano Beach, Florida
Pompano beach is a wonderful place to visit. Pompano Beach has many attractions and things to do. The best thing about it is that you can take a bus to get there!
Pompano Beach has many things to do including several parks.
Pompano Beach is the home of the famous tri-rail station, "Pompano Beach". Pompano Beach is a must-see for anyone visiting South Florida.
Ocean City, Maryland
All the beaches in Ocean City are famous for their soft sand and clean environment. The Ocean City has a very family-friendly beach as well, with lifeguards present every two blocks to keep everyone safe. The shallow water here is perfect for swimming with its clean water and perfect water temperature. Moreover, you can rent chairs and umbrellas on the beaches, so you don't have to carry them from home. Try renting an underwater drone to really explore the deep reaches of the water! If you're in Maryland, consider heading over to some of the best beaches in Connecticut for more fun.
Poipu Beach, Kauai, Hawaii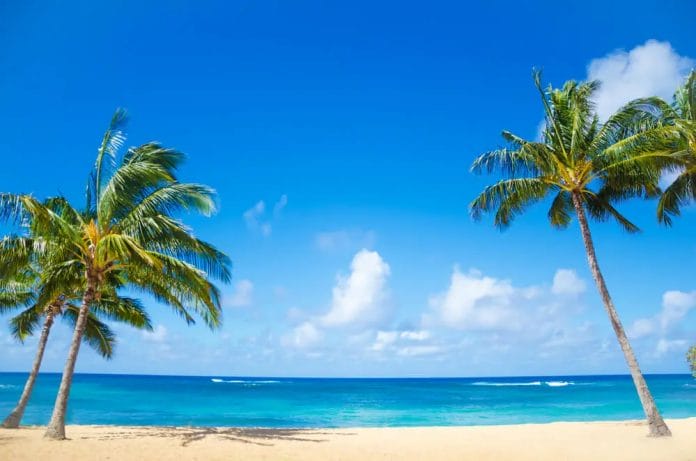 This beach also has shallow water, which is perfect for swimming with your family. This pristine beach has golden sand and a beautiful sunset ocean view to leave a mark in your memory. You can do a variety of popular outdoor activities here like swimming, surfing, and boogie-boarding. It has pretty palm trees and perfect weather all year round, so you can visit the Poipu Beach Park, also popular for being an orange beach whenever you want. Make sure you bring your best beach wagon cart to haul all your beach gear!
Glass Beach, Port Townsend, Washington
This is called glass beach because it has sea glass in its sand. Although the sea glasses are now not that visible, this orange beach is still a very famous beach. This is mostly because the scenery on this ocean beach is fantastic. It has high tides, so you need to be careful when planning the trip as wet weather is the worst time to go here. If you plan a proper trip, then it can be a great gateway for you and your loved ones.
Oak Street Beach, Chicago, Illinois
This beach is along the shore of Lake Michigan and is a popular summer destination. The beach has swimming allowed only when lifeguards are around, so you need to make sure to schedule it properly. You are not allowed to feed wild animals or bring your pets, but it has a lot of delicious food options and chair and bike rentals. This means that you can explore this beautiful area with your family as smoking and drinking are not allowed on the beach either.
Grayton Beach State Park, Florida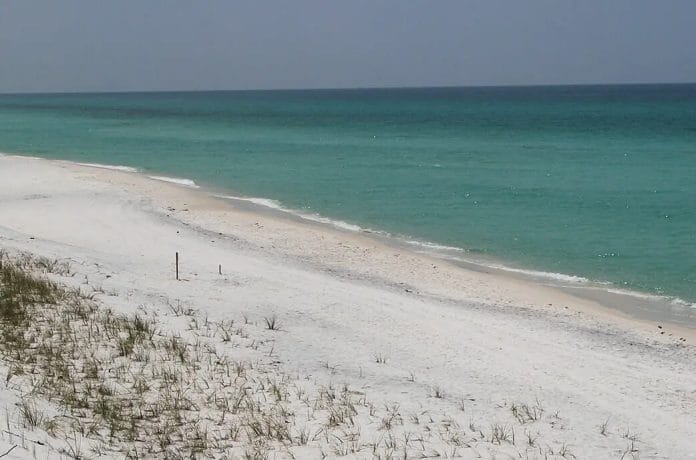 Grayton Beach has a high rank for being the most beautiful orange beach out there. The beach is located close to Panama City Beach. Panama City Beach is a known destination as well. The beach is ideal for people who want to walk as well because of its coastal forest, which will have a very cool view. Moreover, you can stay at Grayton Beach overnight as well, at the campground or in a cozy hotel. You can take part in a lot of different activities on this sand beach near Panama City.
Coast Guard Beach, Cape Cod, Massachusetts
The Coast Guard Beach is a perfect sand beach that only takes people through a shuttle bus as the parking area that it provides is in Little Creek. This has the perfect water temperature for swimming in the summer and has all the popular activities that you can do. You can see shorebirds here as well as seals, but seals are usually visible during the winter months. Needless to say, this stretch of beach is a popular spot for many people.
Honopu Beach, Kauai
It is another beach that is located in Hawaii with hundreds of yards of beautiful ocean that is considered one of the prettiest beaches. This is a very remote and tranquil beach that has natural arcs and rock formations for you to see. The only way to have access to this beach is by swimming, so unless you are very dedicated to going to this beach, you might not be able to reach here. However, if you do decide to swim to it, the beautiful view will take your breath away. Here you will find a waterfall, high sea cliffs, and much more.
Ormond Beach, Florida
Ormond Beach, Volusia County in Florida is the perfect place to find a small-town feel. It has beautiful beaches as well as a wealth of historical and cultural attractions.
Nearby Tomoka State Park offers a variety of outdoor activities, as well as an ancient Native American village that was inhabited for thousands before Europeans arrived.
Ormond Beach has many restaurants and hotels that are within walking distance to the beach and other attractions.
Coligny Beach, Hilton Head, South Carolina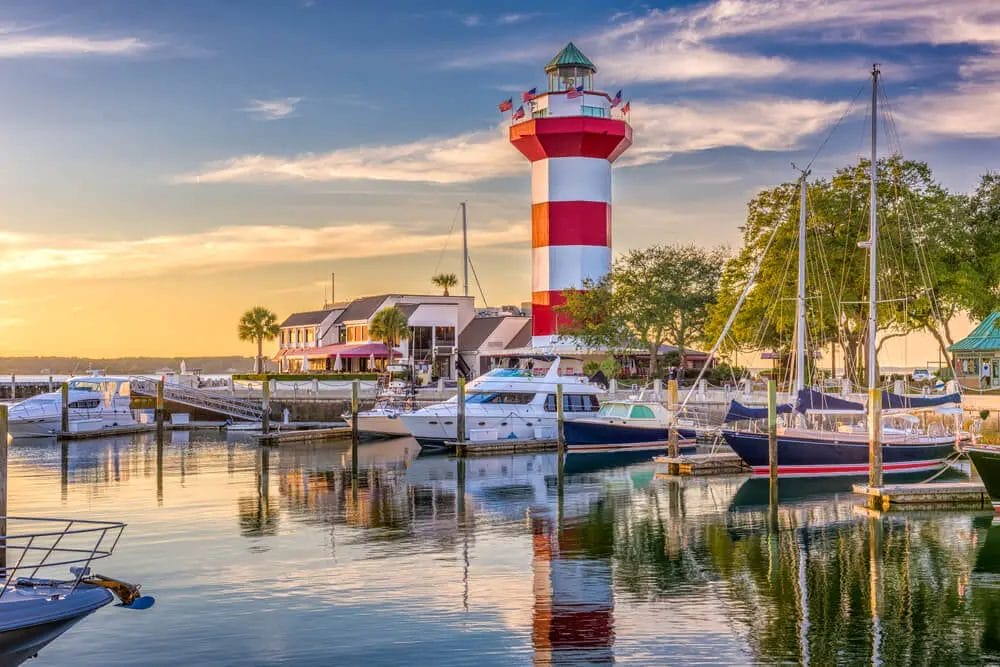 Along with being a beach, it also has a park so people can experience the white sand beach with all popular activities. Here at Hilton Head, the orange beach is located right at the end of Pope Avenue. The stretch of sand is located in a busy place, so you get all the best shops, restaurants, and hotels just a walk away. You can choose to walk, bike, or take a taxi to reach this beach which kids love. If you're looking for the warmest ocean in the world, the Atlantic isn't it- check out our rankings so you can vacation at the warmest spot!
Venice Beach, Los Angeles
This popular beach in the United States was founded in 1905. Venice is a beach city with lots of free-spirited people who have funky shops and great street performance abilities. You can even fish or kayak in the water of this beach. Due to social distancing, not more than 15 people from a group are allowed right now, but it is still one of the prettiest beaches that you will stumble upon. Venice Beach is one of the most visited places in Southern California.
Ditch Plains Beach, New York
This United States beach is located in Montauk and has warm water, which is also clean for swimming and surfing. This is a popular spot with mild surf and is considered a nice white sandy beach. Due to having the perfect waves for surfing, this is a popular destination for tourists. The beach also has popular food items that everyone loves to try once they come to this national park.
Baker Beach, San Francisco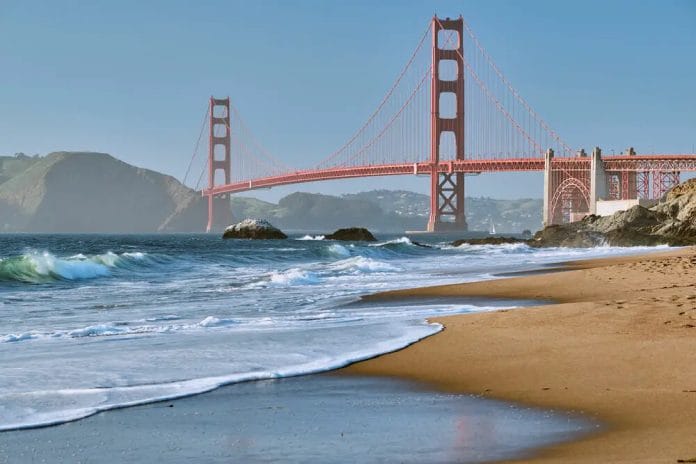 The public beach lies on the shore of the Pacific Ocean, so you know it is famous. The locals love this beach with miles of sand and yards of the wide ocean. This is one of the prettiest beaches that you can find in San Francisco. However, it can have rip currents that you need to be careful of. The parking lots at the beach fill up pretty quickly, so if you want to go to this beach, make sure to arrive early.
Mid-Beach, Miami
It is another beautiful beach with miles of sand that is one of the most gorgeous beaches. This Miami beach is in the middle of South and North beach that offers the best of both sides. This beach has everything from coral reefs to beautiful sunsets.
It has all the popular places nearby so you can relax at the beach and then go shopping. So pack your bags and visit it right now. Check out our list of the quietest Miami beaches if you want something a bit more tranquil!
Waipio Valley Beach, Big Island Hawaii
Contrary to other beaches, this beach has black sand. This is the best beach for its beautiful view only as swimming in the water here can be pretty dangerous. There are no lifeguards around, and the current gets pretty strong here. This place is a sacred historical place for Hawaiians as it had a lot of temples, and many kings were buried here.
Islanders Beach, Hilton Head, South Carolina
This beach is more of a park with its broad walkway, picnic facilities, as well as having a playground. A beautiful natural environment surrounds the beach, so taking a walk here is a very relaxing activity. It also has wide enough walkways for handicapped people or wheelchair users so anyone can enjoy the beautiful view.
Sea Camp Beach, Cumberland Island, Georgia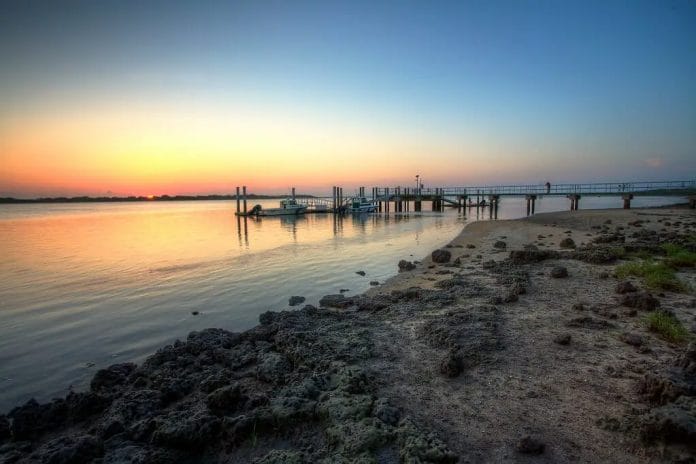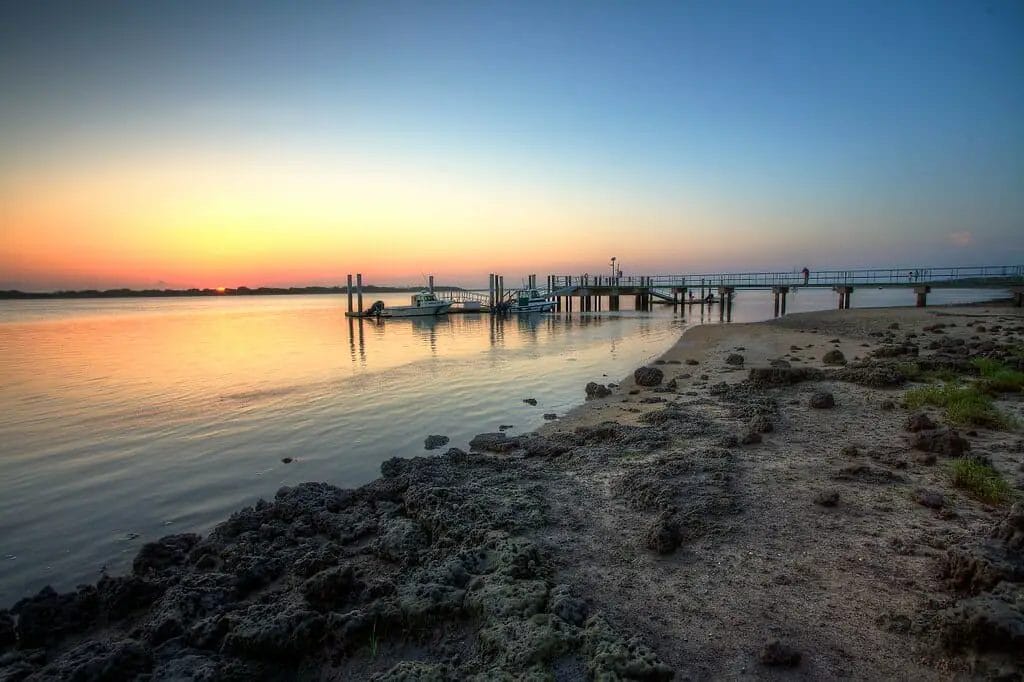 The Sea Camp Beach is ideal for camping as you can camp in 5 different locations here. The campgrounds are on the beach, and you are allowed to swim through them if they lie within the National Seashore boundary. You can camp here and spend the night as well. Check out some of the best Wisconsin beaches if you want an unexpected destination!
Myrtle Beach, South Carolina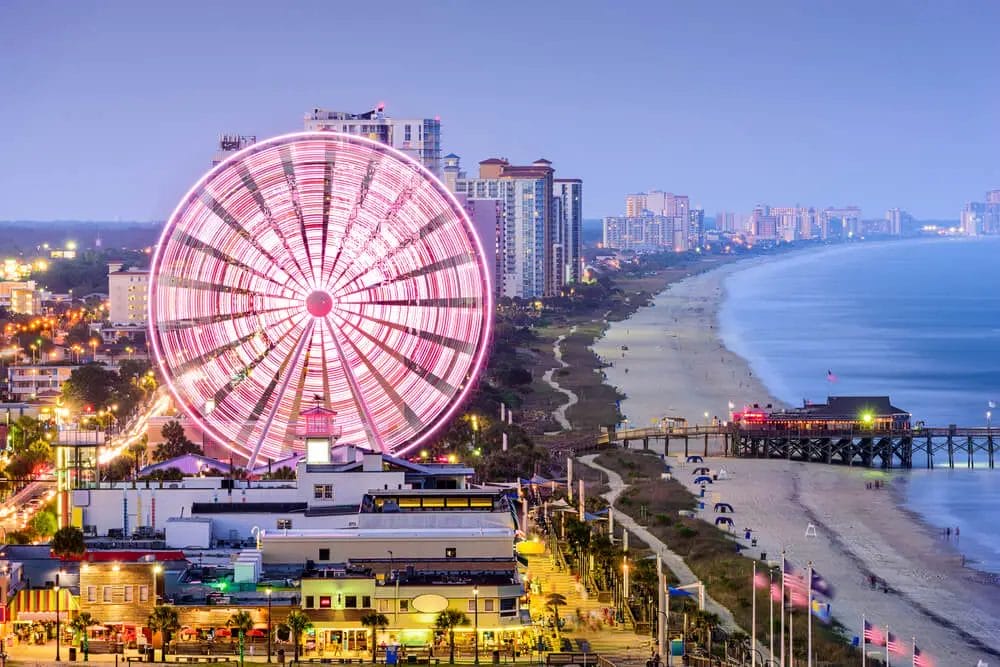 Myrtle Beach is fun because there are tons of things to do while visiting Myrtle Beach. If you like going out to eat, then you will not regret coming to this city. Also, if you like shopping, then you should definitely check out some stores when you're in town. And lastly, if you like playing golf, then you must play golf during your stay in Myrtle Beach. All these activities are available near the hotel where you will be staying.
Panama City Beach, Florida
It's a beach town. It has the best of both city and the ocean; it's got all the amenities you need and then some. The people are friendly and there's always something going on in Panama City Beach. I love that about this place!
I'm not sure if we'll be back to Florida again but for now, we're enjoying our time here at home with family and friends.
In conclusion, there are many gorgeous beaches in the United States that you can visit during a weekday or a holiday. Make sure to pack appropriate things so that you can have the most relaxed and fun trip ever!
Daytona Beach, Florida
Daytona Beach, Florida has been voted by USA Today as having the best beaches in America. So what makes these beaches such amazing places to visit? Well, besides being beautiful, Daytona Beach also boasts world class surfing waves, incredible nightlife, fun festivals and events throughout the year, and much more. Check out some the best New Jersey beaches, as well- the state has a ton of places to visit!
We're adding more beaches to the list- but in the meantime, check out some of the best beaches in Ohio and the best beaches in Rhode Island.

Hi, I'm Ryan Nelson! I live in the Hamptons, out on Long Island, near Ponquogue Beach. The beach is a place where I can find peace and serenity. It's a place where I can sit and clear my head. The waves crashing on the shore somehow helps me to relax, while also reminding me that I am far from the stressors of daily life.