Although a relatively small city on the coast of Orange County, California, Laguna Beach is a beloved getaway for lovers of tranquil and laid-back lazy summer vacations.
If being surrounded by beautiful architecture, art galleries, gorgeous beaches, and miles of coastline, look no further than Laguna Beach. Its simplicity and effortless beauty will truly make you gasp for air.
Keep reading as we investigate the best places to stay, things to eat, attractions to visit while on your break in Laguna Beach.
For spring break
Laguna Beach is an ideal spring break destination. Every year, tens of thousands of Americans gather on the shores of Orange County to spend some quality time with friends, family, or alone in this beach town. Being such an authentic town with a vast number of activities you can participate in, we consider it to be an ideal spring break getaway; and it's truly one of the best beaches in America.
Average Temperature
Laguna Beach is an all-year destination; however, it displays all of its magnificence and splendor in April, May, September, and October.
If you love a good crowd and bustling, vibrant hot city nights, then don't shy away from visiting during summers when the tourist season is at its peak. The temperature is ideal during these months and stands around comfortable 70 degrees, and the beaches are not as crowded. During June, July, and August, you are likely to experience temperatures that can go up to 79 degrees and comfortable lows of around 60 degrees.
Where to Stay in Laguna Beach, Florida
Montage Laguna Beach is a beautiful resort on the shores of Laguna Beach. It is one of the top-rated places to stay while in town, and its location will truly have your jaw on the floor. We don't know what's better, the rooms, the decor, or the impeccable service.
The Inn at Laguna Beach is a comfortable place to stay. It offers stunning views for a somewhat lower price than many other resorts. The services are top-notch, and the food is even better!
Popular neighborhoods
Diamond Crestview is a vibrant hillside neighborhood overlooking the magnificent beaches of Laguna Beach. Diamond Crestview is ideal for those who value luxury. This upscale residential area is some of the country's most exclusive.
Lagunita is a private coastal community known for its historical homes a wide variety of homes to choose from. From a cottage to a mansion straight out of Great Gatsby, Lagunita has something for everyone.
San Juan Capistrano is a short drive away from Laguna Beach and boasts some charming historical places. San Juan Capistrano is known for its beautiful, pristine coast and is known to be more affordable.
Camping Options
Moro Campground is the area's finest campground, and it is close to the North Coast highway. The campground is well maintained and has many picnic tables for no extra cost.
Popular Places To Dine
Lost Pier café is a great way to start your day. If you like eating beautiful rustic food with some stunning beach views, Lost Pier is your place. Oh, and did we mention their iced coffee?
AhBa is unpretentious and one of the highest-rated places to eat in Laguna Beach. It is known for its Middle Eastern and Mediterranean cuisine. At AhBa, they truly excel at culinary art and will serve you nothing less than art.
Nick's Laguna Beach is one of the top-rated, unpretentious restaurants in Laguna Beach. It will hypnotize you with its charm, and at Nick's, you will feel at home. This American restaurant is the coziest you can find, and the food and cocktails are bound to impress you.
Attractions & Things to Do
1. The beach
Grab your flip-flops and your beach towels and visit the beautiful beaches. Spend a day on the sand and explore this beautiful intersection of land and water. Start with the beautiful Treasure Island Beach and move on to Aliso Beach Park. If you are looking for that palm-dotted landscape photo, the Aliso Beach Park will give you a lovely sight. The West Street Beach is an ideal picnic beach, and if you're looking for dramatic landscapes, Victoria Beach will leave you gasping for air, and Huntington Beach will impress you with its laid-back vibe.
2. Pacific Marine Mammal Center
Start your day learning about the marine life at the Pacific Marine Mammal Centre, see the rescued sea lions and seals and enjoy the educational tours. The Pacific Marine Mammal Center even has a vibrant butterfly garden!
3. Heisler Park
if you want to have a lazy afternoon, Heisler Park will pleasantly surprise you with its green walking trails and one of the lushest assortments of vegetation and flowers in the area. Nothing spells gorgeous views like Heisler Park.
4. Crystal Cove State Park
The Crystal Cove State Park is a 2.400-acre park that includes long stretches of wilderness and unspoiled beaches. Cove State Park is perfect for those who want to explore the area's wildlife and those who prefer large, open spaces to breathe in the fresh air and admire the beauty of local nature.
5. Laguna Beach Trolley
The trolley service in Laguna Beach is one of the most amusing attractions available to tourists. Trolleys run every 30 minutes, and you can even download the Laguna Beach trolley app for easier reference.
6. Sawdust Art and Craft Festival
Sawdust Art and Craft Festival is a traditional festival in the Arts District where you can enjoy and admire the local craft and even participate in some classes and learn the secrets of the local artists. Immerse yourself in the local art scene and find a beautiful art piece for your home.
7. Surf and Sand Resort
Surf and Sand Resort is another gem overlooking the beautiful coast. This stunning resort has it all, from a beautiful pool to a well-equipped spa Surf and Sand offers rich breakfasts and impeccable service and is worthy of an honorable mention.
8. See the city from Alta Laguna Park
If you like a good self-guided walking tour, the Alta Laguna Park will grace you with one of the nicest views of the city. The panoramic view is best before sunset and just at the time when the sun hits the horizon. The colors will leave you speechless.
9. Take a drive along Pacific Coast Highway
Nothing beats that main character moment as you drive along the Pacific Coast Highway. You will truly feel like you are in the movies, unwind the radio and enjoy the wind in your hair. While strolling down the Pacific Coast Highway, take some cool shots; your feed will blow up!
10. Enjoy Pageant of the Masters
The Pageant of the Masters is one of the most special events in Laguna Beach in the heart of Downtown. This festival of arts recreates famous works of art, and there is always an amusing theme.
11. Explore the Laguna Coast Wilderness Park
Laguna Coast Wilderness Park is ornamented with stunning wooded canyons and ocean views and offers miles of trails lined with Sycamore and Oak trees nestled in acres of wilderness. Picture-perfect vistas overlooking the city are a popular spot for romantic couples.
12. Self-Guided Public Art Tour
Take an art walk and enjoy a self-guided public art tour and explore it further? You can visit the City Hall and get a detailed brochure of the city's public art collection. This city-wide art museum boasts some of the most intricate art pieces that are all within walking distance of one another.
13. Explore the Tide Pools
Tide Pooling is all the rage here; the scenic views of the small, isolated pockets of seawater scattered around the landscape will put a smile on your face. While you're there, try to find an octopus or a sea star, these pools are their favorite spots to hang out.
14. Find the Pirate Tower on Victoria Beach
The Pirate Tower on Victoria Beach is a thing of legends. This lonely, mysterious tower is worth the visit and is a favorite spot for a cool selfie.
15. Surfing
Another great way to beat the summer heat is surfing, there are many surfing spots in Laguna Beach, and many sandy beaches are perfect for surfing. The town is well-equipped with surf shops and surf schools, so you don't have to worry about mastering the waves on your own.
16. Standup Paddleboarding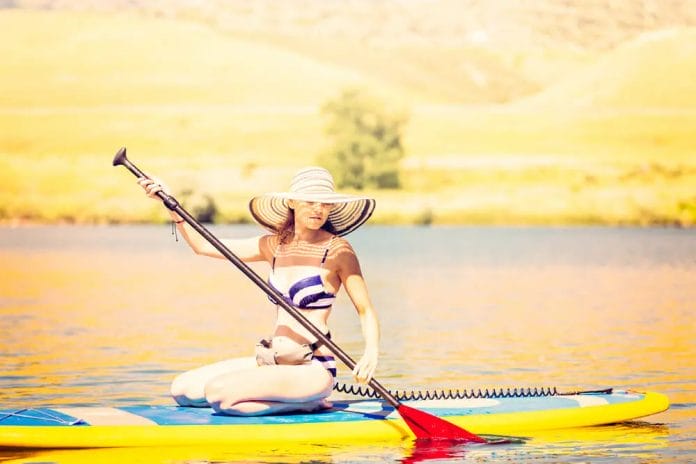 Standup Paddleboarding is another fun activity you can participate in during your stay. There are many different rentals to get a paddleboard and spend a few hours on the water.
17. Snorkel Rentals
Laguna Beach is a hotspot for snorkeling and scuba diving. Visit any of the snorkel rentals in town and experience the beautiful marine life of Laguna Beach for an affordable price. Skin diving is also an option for the brave.
18. Golf
Golf is a popular sport in Laguna Beach. There are several golfing spots on Laguna Beach, like El Dorado Park, and it offers some of the best golf courses in this part of California.
19. Theme Parks
Laguna Beach is known for its many theme parks and fun events. Among the best ones are Adventure City, El Dorado, Frontier, and many more. Laguna Beach amusement parks will get your adrenaline pumping in no time.
20. Whale / Dolphin Watching Tours
Being a coastal city, Laguna Beach is home to dolphins, Blue Whales, and Finback Whales that still reside in these fragile ecosystems. There are many tours you can check out, and these lovely creatures will be there to say hi; if you're lucky, you may even spot elephant seals.
21. Hiking
Laguna Beach is very connected to nature, some of the best hiking trails for all fitness levels, and we would highlight the Dominguez Gap Wetlands, El Dorado Nature Center, an. Hiking trails along the amazing coastline are out of this world.
Wrapping up
Laguna Beach is a beautiful, pristine environment displaying its natural and architectural splendor that has been painstakingly cultivated and maintained for decades. Laguna Beach is a place to relax and have fun. After leaving Laguna Beach, you will surely take some valuable fond memories with yourself.

Hi, I'm Ryan Nelson! I live in the Hamptons, out on Long Island, near Ponquogue Beach. The beach is a place where I can find peace and serenity. It's a place where I can sit and clear my head. The waves crashing on the shore somehow helps me to relax, while also reminding me that I am far from the stressors of daily life.