The biggest attraction of summer is obviously the beach. Nothing feels more summerlike than visiting your local beach in July and August.
From youngsters to parents, everyone gets comfortable on the sands with their entire family.
While the teenagers bathe in the sea with extended family, play beach volleyball, beach soccer, tug of war, hybrid balls, and enjoy the scenic views, children carry their own fun activities by building sandcastles, playing beach board games and building sand sculptures.
However, the beach activities don't only limit themselves to just the seaside. With the high number of tourists and civilians rushing towards the beaches, authorities have started to build proper sports clubs and areas for beach bowling and beach darts.
The staffs allow the adults to have a competitive and fun time and relax somewhere after a hectic day at the beach.
The best beach games to play in the summer
By playing different types of games, making sandcastles, making a message in a bottle, doing different types of fun beach activities, you can make your beach trip fantastic. There are many beach games, some games for adults, some games for kids.
But before going to play beach games, never forget to bring a beach towel and beach bags as you will spend a beach day. Here's a list of some modern and classic beach games:
1. Mini-Golf
A game of Beach Mini-Golf can be a great way to spend a day at the beach. It's a hit with the kids! To play this game, you need to manage a mini golf set. The beach sand can be used for making the golf course. The last hole that includes a sandcastle is a great way to end the course in the game. You can spend hours of fun playing this game which is fun and easy.
2. Fly a kite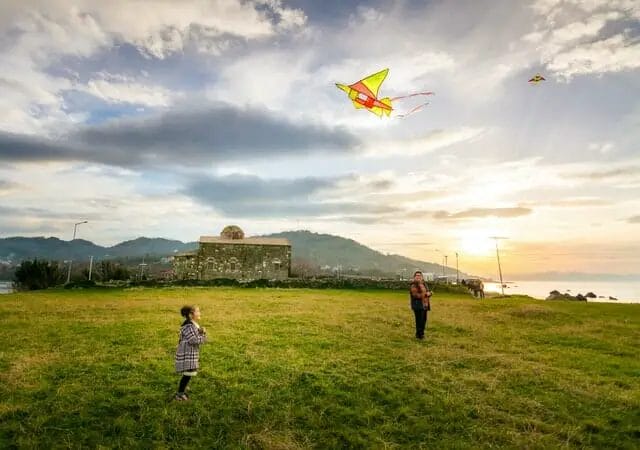 Are you Looking for something different to do at the beach? Things to do with kids at the beach, including instructive and entertaining beach activities for children and their families? Flying kites may be the perfect solution. You can buy different types of kites before going to the beach and have enough space to run around and fly it! Both kids and Adults can join this game to make your kids active.
3. Water Bucket Relay
Relay races are popular among children, and a water bucket relay may be substituted for the traditional egg and spoon race at the beach. Each kid will need a bucket, bucket ball, or bucket pong ball and a carrying tool. This game helps your child to develop balance and agility. This is a very cheap and easy game that can keep your children entertained and kids active.
4. Beach Frisbee Golf
In this game, both kids and adults target the items they brought to the beach or those They find them around. People dug Towels into holes of sand to acquire targets. Players throw the Frisbee as near to the target as possible. This fun game is one of the favorite beach games among people. This game is just as famous as beach soccer; just make sure to include everything needed in a beach bag.
5. Limbo at the Beach
In this game, adults and children pass a limbo stick is passed without touching it in any way. However, six players are needed for this game 3 members are required in the team. If anyone touches the stick or falls, he is disqualified. Thus, the stick is placed lower to the ground to increase difficulty. Children come for pink parties, artistic activities, joy, and fun activities in this game families. This is an entertaining family beach game.
6. Beach Bowling
It is one of the favorite fun family beach games. A visit to the beach with kids can be enjoyable if kids can play this game. Beach balls or bottles are needed to play this game. When kids play this game, adults can participate with them or can spend their time playing cards. For choosing cards, Hoyle Waterproof Playing Cards will be the best option. This cheap game is a good idea for family beach games.
7. Beach Volleyball
This game is the most popular adult beach game. Each side needs 6 players. So all the family members, friends can participate in this game. In this, you will need a net or mark the distance between the two teams in the sand. The family on the beach with kids can also enjoy this game.
8. Squirt Ball?
You will need to plan a bit for this game, as players bring some squirt guns on the beach, and they use squirt guns to shoot their own beach balls as soon as the game starts. The ball that reaches the finishing line the first is the winner. The only thing you will need is a squirt gun and a ball to play this game. It id easy and cheap.
9. Tug of War, Beach Style
Another classic game to play on the beach is Tug of war. To play this game on the beach, you need a long rope and a shovel. You have to dig a hole in the sand. You have to divide all the members into two teams. Always try to divide the younger members under an adult anchor. Immediately upon the referee blowing the whistle, each side may begin dragging the rope into their side. The aim of the game is for each team to draw the rope to their side while also enlisting members of the other team.
10. Tidal Ball
In this game, there 4 players required, 2 players can also play. Before the game begins, each team digs a hole and throws 30 feet away from their opponents. The size of the trench can be decided according to players. This is a simple game that can be played in an oversized version or in its small version.
11. Corn Hole
This is a famous fun beach game and played by 2, 4 players. The beach game requires a set of cornhole boards and 8 cornhole bags. If you have the products to play the game, it can be a fun game to play with all family members as it is easy and fun. Make sure to include as many people as you can.
12. Hoyle Waterproof Playing Cards
In Hoyle waterproof playing cards, there is a set of waterproofs playing cards up to all sorts of fun adult games, whether the adult game is poker. They play cards to nourish themselves. Card games are a fun activity for adults, but kids can also play some easy games that can be enjoyed.
13. Play musical towels
Instead of a chair, this game is present on beach towels. Beach towels are laid on sand. Towels are needed per person. Players then dance, enjoy, and have fun around the row of towels of person until the music stops. Like this, they play, enjoy, and do fun activities. When you plan some ideas for family beach, you can keep this game.
14. Host a beach scavenger hunt
Along with relaxation and playing, the beach is an excellent spot to foster curiosity and improve observation skills. There are many hidden treasures (and others that are easy to see) just waiting to be discovered. This game will help you to find out some hidden treasures.
15. Build a sand (snow) man
Along with snow angels, kids love building a snowman. You can even dress him up in someone's formal wear like a shirt or beach cover-up and add sunglasses. Kids love building a sand castle, so you can host a sandcastle contest as well, of course as a sand snowman in the snow.
16. Throw sand darts
In this beach game, a dartboard on the sand with points is a ring. We can also use shells on a beach. Children love to play this game on the beach. They spent time mostly together playing sand dart and throwing it.
17. Set up beach Skeeball
Beach Skeeball is a game in which each player takes turns trying to score the most points by rolling the ball up in the straight lane and over the ramp. The player who points the most is the winner and so on. The more people you have the more fun this game is.
18. Craft shell necklaces
For this, you need to find shells on the beach that you like and craft them into necklaces. You also need to dig some holes in the shells to string them into a necklace. This is very easy to make and can take a long time to make, so it can keep children busy for a while. You can pile all the necklaces into sand pails to keep them face.
19. American football
American football is just as fun as normal football. This is more fun at the beach as the injuries you get will be subdued on the sand as it is much softer. So make sure to play this game, since all you need is a ball to play this fun and active game.
20. Bocce Ball
This is called a game of boules. It is perfect for beach games. This is played with individual players teams of 2. Each team has a ball color, and the aim is to roll the large balls as close to the jack as possible.
21. Ladder ball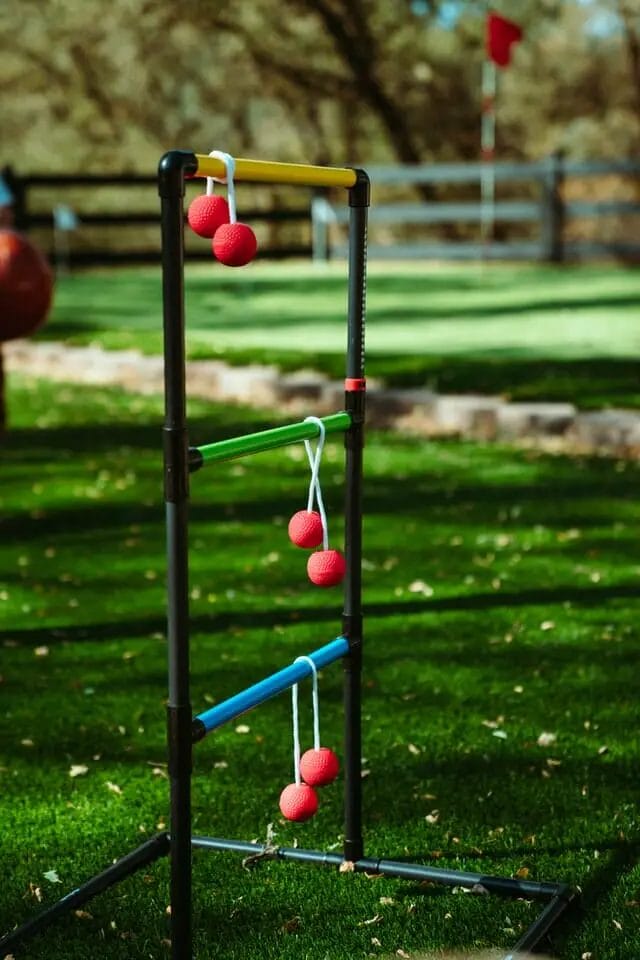 Ladder ball is gaining the attention of people on the beaches of North and South Carolina. This is a game that is packable, assembled, easy to play, and open to all ages of people. Ladders are placed about 15 feet in distance.
22. Hacky sack Tennis
Tennis is already a fun game, and this version of tennis is even fun. So play this game on beaches like Panama City Beach, which also has a fantastic view. All you need is a footbag and a tutorial to see how this game is played.
23. Beach volleyball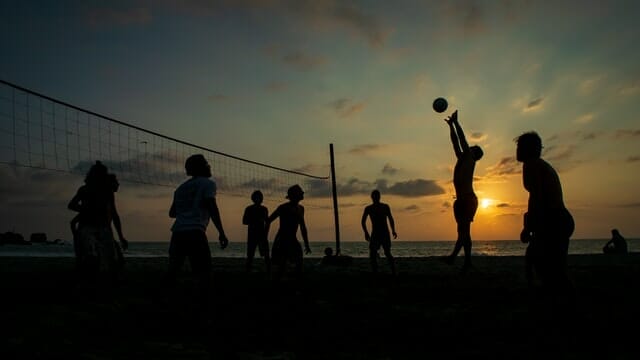 Volleyball that is played on the beach is sure to be memorable. You will need to have at least 6 players to enjoy this game properly. Any sport played on the beach is much more fun with friends and family. Make sure always to take refreshments as everyone will be tired after playing this sport.
24. Water polo
Water polo is a competitive team sport played in the water between two teams of 7 players each. This is a water game, unlike most sand games that were mentioned above. You won't sweat either, so it is a fun and refreshing game.
25. Frisbee golf
This game is played with the same rules as golf but with a small difference. It would help if you searched up on Google or YouTube to learn how to play this game. It is a fun game that can be played among friends and family for a fun experience.
26. Badminton
For this, you will need a racquet and a shuttlecock. Racquet is required for each person that plays but you only need one shuttlecock to play the game. The good thing about this game is that you only need two people to play it with on two sides of the game. This doesn't mean that groups of more people can't play it either!
27. Hole digging contest
Digging holes provides fun for kids- so simple!. Adults, kids can dig in the sand and then fill the hole with water. Or you can compete on who digs the most creative hole, however, this one is a little more complicated. The goal of the goal digging contest is to dig the deepest hole. Whoever manages to dig the deepest hole a certain time frame, wins.
28. Sand Hopscotch
Playing hopscotch on the beach is fun because there's no pavement to trip over. Sand makes hopping around easier than concrete does. There are many different ways to play hopscotch on a beach. Some places use chalk lines while others don't. If your area uses chalk lines, they're usually painted onto the ground. Chalk lines help keep children from stepping into them accidentally. They may not look very pretty when wet, though.
29. Sand Angels
Sand angels are fun activities. Just lay on the ground and swipe your arms and legs across the sand to create the sand angel. Children love these types of projects since they get to create something new and beautiful out of nothing. Sand angels are great for both adults and children alike. Adults often build sand sculptures for their own enjoyment- but these are easier for children to create quickly. Children make sand angels for other children to admire. Both adults and children find joy in making sand angels together.
30. Go Snorkeling
Snorkeling is fun because it allows you to see the underwater world. It lets you breathe underwater and explore the many natural wonders usually invisible to the human eye.
In conclusion, playing games like having sandcastle contests or playing with a soccer ball on the beach can be really fun with your loved ones. The point is, playing these games can help you make lots of memories! You can also try more creative games like making shell necklaces or sand sculpting.
31. Play Bottle Bash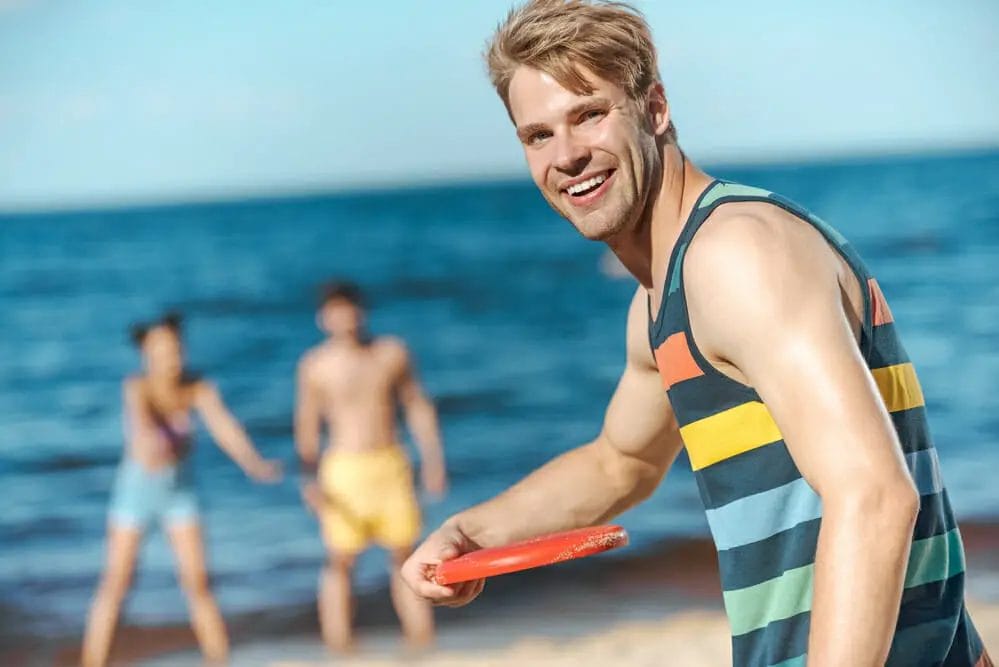 Bottle Bash by Poleish Sports is an outdoor frisbee game perfect for various types of surfaces but most enjoyable on a hot, sandy beach, camping trips, or a lawn with your buddies and relatives.
Bottle bash is one of the easiest games to play at any skill level, and anyone can join in the fun as it is a perfect team game.
32. CROSSNET
An interesting take on volleyball, CROSSNET is a revolutionary beach game!
33. Kan Jam
Kan Jam is another fun beach game that involves frisbee throwing.
34. TidalBall
TidalBall was born in South Carolina. It is a gentle mix of bocce ball, cornhole and weighs only 8 ounces. It is water- and sand-proof, and can easily fit into a beach bag.
35. Jazzminton
Jazzminton combines elements from both tennis and badminton. Players take turns throwing their Jazzminton shuttlecocks at their opponents by drawing a line in the middle.
Your opponent must retrieve the ball and throw it back if it lands in your court. They lose a point if it lands on the court of another person. The game is won by the first player to score 11 points.
36. Catch crabs
Try your hand at catching crabs on the beach!
37. Collect large shells
Collecting shells is a great activity for the whole family!

Hi, I'm Ryan Nelson! I live in the Hamptons, out on Long Island, near Ponquogue Beach. The beach is a place where I can find peace and serenity. It's a place where I can sit and clear my head. The waves crashing on the shore somehow helps me to relax, while also reminding me that I am far from the stressors of daily life.