Who doesn't want an affordable beach vacation? And that is when Panama City Beach might suggest itself as a budget-friendly, sandy destination! This amazing location is best known for its beautiful beach with emerald water and white sand. Along with stunning views, this location has many other activities that make it a dream vacation destination. So let's learn more about Panama City Beach, which has beautiful white-sand beaches and is one of the great American beaches.
About
This charming beach town is located in the Gulf of Mexico, in Florida. Panama City Beach is a very popular vacation destination for its breathtaking views. It is great for any water activity as it has green water with average water temp which is great for swimming.
The calm water and white beaches are all surrounded by fun attractions. This beach is 27 miles long and has everything from state parks, waterfront restaurants and many public beach access points.
The turquoise waters are very famous among scuba divers and fishermen as there are dozens of artificial reefs located offshore in the Panama city beach. You can also look at the Mexican sunset through their Mexico beach, which can act as a great romantic getaway.
Needless to say, may it be with your family, friends, or partner, Panama city beach offers a variety of fun attractions with a beautiful array of beaches. There are enough places to make beach memories for the beach bums!
For spring break: Did you know Panama City beaches are known for being the "spring break capital of the world"? (It definitely rivals Daytona Beach in that regard). This means that everyone, especially students who wanted to have a great spring break come to the Panama City beaches to explore Panama City. You can party here every night and stay in great hotels that have a stunning view of Bay county. Moreover, you can also experience being in Mexico through their Mexico beach. This place is very budget-friendly, and you can start booking your Bay county vacation in Panama City for March. They have an amusement park with panoramic views for all their guests as well, so if you get bored of the emerald coast, you can always have fun in the amusement parks of the beach town!
Weather
If you're looking for some good weather during your trip, then Panama city beach will definitely not disappoint you. In fact, they have warm temperatures throughout the year, except for January where it gets cold. However, the temperature usually stays above 80 degrees Fahrenheit. During the summer months, the sun shines almost every day, but sometimes cloudy days do occur.
Where to stay in Panama City Beach, Florida
After this, you must be wondering where to stay in Panama city beach, Florida? Well, don't worry at all.
There are dozens of affordable places to stay in this beach town! You can stay in five-star resorts or hotels with a heated pool, or you can choose affordable lodging that fits your budget.
The Panama City Beach mayor, Mark Sheldon, has made sure that whoever comes to the beach has a place to stay. If you want to stay near Mexico Beach, the Summit Beach Resort or Emerald Beach Resort are great options for you.
Both Summit Beach Resort and Emerald Beach Resort can be booked now for your spring vacations. The point is, Panama City Beach has more than 21000 motels, condos, and hotels available for you to choose from.
Popular neighborhoods: If you are looking for beautiful neighborhoods in Panama city for living or for simply exploring, you will not be disappointed by the views that Bay county has to offer. There are places like Lynn Haven, Pretty Bayou, Lower Grand Lagoon, and Upper Grand Lagoon, which are great for daily excitement. If you are selecting a hotel, selecting one from these areas will give you many fun activities. Panama City Beach has a fitness center, arts center, cat rescue centers, and much more for its residents.
Camping options
Now that you have read so much about the lush emerald green water and fun neighborhoods of Panama City Beach, you must have wondered about the camping options that this city provides.
Let's be honest, the best way to experience a place, especially one known for its beautiful view and aquamarine waters, is through camping.
The good news is that there are state parks that allow you to camp on the beach! This way, you get the best view of the blue-green water as well.
Moreover, this is the cheapest lodging option that will definitely be within your budget. So if you want to experience the fun attractions of this city, try camping.
Places to dine
One of the most important parts of any trip is the options available to dine, whether it be a day trip or an overnight trip. You can have all the awesome attractions present, but it can be disappointing if you don't have a good place to eat.
Lucky for you, this city has amazing places to dine in, from casual eating to authentic food, you can get anything you want.
The best type of food that you can get is seafood, as Panama city is known for its seafood options. Don't worry because food is something you will get everywhere in this beach town.
Attractions & Things to do
If you want a place with a diverse and fun business community, then Panama City is the place to go. You can have a memorable day trip and an unforgettable boat trip. However, here are some of the best things that you can do in this city.
The Beaches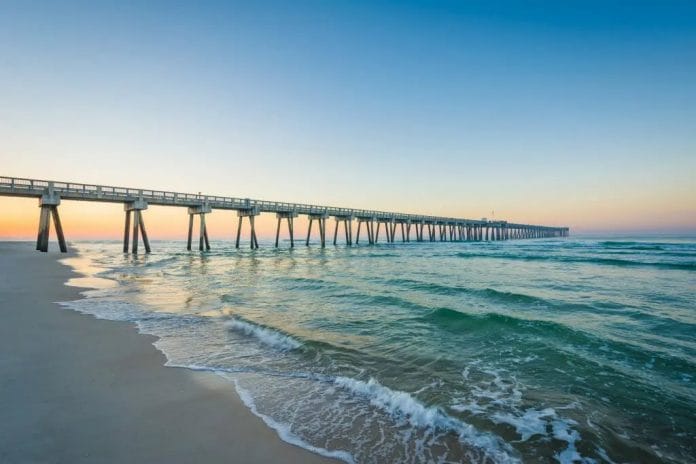 Of course, the best part of this beach city is the beaches! Places like beautiful barrier island and Carillon Beach will experience the crystal clear water and beautiful white sand. There is a reason that the beaches in Panama city are known to be the most beautiful.
If you love fishing, then you will find great fishing charters here. As you know, Bay county is known for its water and is home to a vast array of wildlife. Whether you are a pro or not, you will enjoy fishing here.
Pier Park is a popular destination in this city. This is because Pier Park is the best place to go shopping and witness entertainment on any day of the week. You can find the best shopping stores selling exotic things and restaurants with authentic seafood only at Pier Park.
The most famous place to get seafood, ribs, and steaks is this restaurant. Everyone who comes to Panama city eats at least once in this famously delicious place. This Western-style dine-in place offers a variety of food options that you will only find here.
Both the tourists and locals love this snack shop for its absolutely delicious food options. If you want mouth-watering food to snack on, try their menu. They have everything from huge donuts to grilled chicken sandwiches.
This is another restaurant that needs to be tried if you decide to go on a vacation to Panama City. There is a reason this restaurant gets a 5 out of 5-star rating on Facebook! They have coffee, bowls, and smoothies with fresh fruits, and they also have a catering option which is more like a buffet.
If you want to explore all the best places in Panama City Beach with a tour guide, doing so on an E-bike will give you a unique experience. You can see all the historical and famous sites on this tour while making new friends everywhere that you go.
Coming to a place that is known for its water and not going on a boat ride should be illegal. This is why you need to have an airboat tour which is an unforgettable experience. There are many airboat tour companies that you can choose from for this adventure.
This is an undeveloped island and beach that is a great tourist attraction. You can get a boat tour and experience the shell island on your own or have dolphin tours as well. Furthermore, it might cost a little to reach the island but everything else is totally free.
The conservation park here is great for hiking and looking at nature. It has a beautiful path that will lead you through the natural environment. This is another cheap and fun activity that you can do with your family.
If you want to see exotic animals, this zoo is a very fun place located in the Upper Grand Lagoon. This zoo has more than 260 animals and hosts a variety of entertainment shows. If you have children, this is the best place to travel to.
The best place to go snorkeling is Shell Island on Panama beach. You can find exotic coral reefs and other such wild creatures. To have an unforgettable site of the deep green water, going snorkeling on shell island is a must.
Watching dolphins is a once-in-a-lifetime opportunity, but watching them during sunset is even more beautiful. If you don't want to swim but want to experience the magical pull that Panama City's waters have, then going on a 2-hour cruise trip to see the dolphins is great.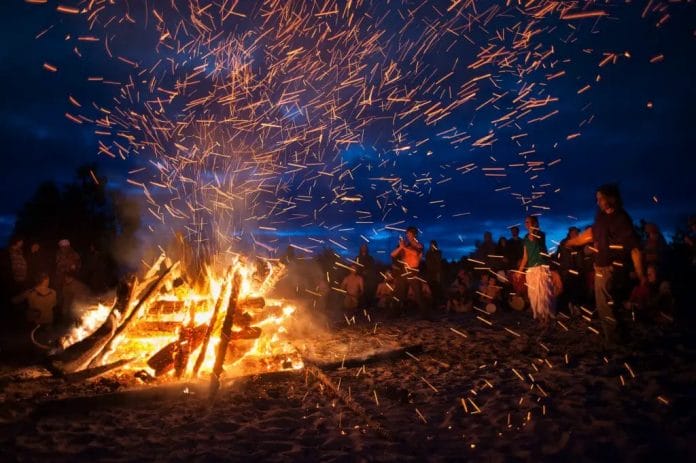 If you decide to camp on a beach, having a beach bonfire is a must. It is much more fun with friends and family, but you can enjoy a bonfire alone as well; therefore, if you can then experience a bonfire at least one night on Panama Beach.
This is a museum for people who loved watching Ripley's Believe It or Not! The museum has very weird artifacts like a shrunken human head and hands-on interactives. If you like creepy things, then this place is worth your time and money.
Take a Helicopter Ride
It is a great way to explore the whole city without spending too much time. Moreover, a helicopter ride is pretty cheap and affordable here as well so. There is a helicopter tour agency through which you can tour the whole of Panama beach in much less time than it would take otherwise.
Try Out Stand-up Paddleboarding
This water support is a lot like surfing but much easier. Stand-up paddleboarding is extremely fun and lucky for you; there are many places in Panama city to try this sport.
Ride Go Carts at Race City
Race city is an amusement park that offers many adrenaline-inducing rides. Go-carts is a small racing car that is very fun to ride. You can take part in this ride and explore the city in another unique way. This is again a great option for people with kids.
Go to Panama City Beach Winery
If you want to buy bottles of wine made up of 100% fresh fruits and experience complimentary wine tasting, going to the Panama city beach winery is a great option. You can also get great gifts from the local winery places, so don't miss this chance.
Gulf World Marine Park Tickets
This is an aquarium in Panama city beach that should be visited for learning more about the different species of marine life present in this city and take cool pictures. This is a cheap and fun way to spend time with the family, and if you are feeling brave, you can even swim with the dolphins.
Play Some Golf
Popular courses are available nearby- check out Camp Creek Golf Club, Nicklaus Course at Bay Point Golf Club and the Signal Hill Golf Course
In conclusion, Panama City Beach has a lot of places where you can have a great time, along with the beautiful beaches. If you want to spend some quality time with your family, visit this exotic and breathtaking place for your next vacation!

Hi, I'm Ryan Nelson! I live in the Hamptons, out on Long Island, near Ponquogue Beach. The beach is a place where I can find peace and serenity. It's a place where I can sit and clear my head. The waves crashing on the shore somehow helps me to relax, while also reminding me that I am far from the stressors of daily life.