Are you looking for the best beach locations without visiting the coast?
Try enjoying some of the best beaches in Wisconsin.
With hundreds of miles of coastline around the state, Lake Michigan and Lake Superior border Wisconsin.
You can spend a summer day cooling off in the sea, sunbathing or even playing beach volley on these Wisconsin sandy beaches along the Door County peninsula and the island beaches on the Apostle Islands.
The Best Beaches in Wisconsin
1. North Beach, Racine, Lake Michigan
If you are planning a family day out and want your kids to have a good time, I recommend visiting North Beach. It has an expansive powdery sand shoreline, is a safe beach for children, and has several trained coast guards around the quiet cerulean sea.
It also features many amenities, such as beach volleyball courts for social games, a playground for the kids, free parking and showers, and much more.
2. Beach, Kenosha, Lake Michigan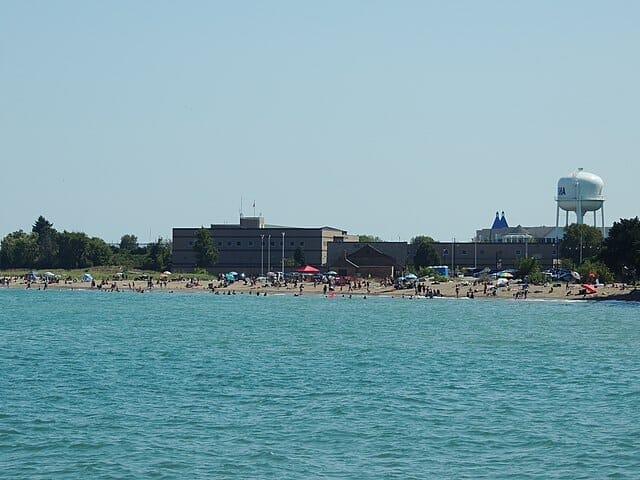 Being the only beach in Kenosha, it is a clean and rarely busy stretch of sand. It is connected to the North Pier Lighthouse by a promenade. Some people use boats to get here instead of walking.
Living in an urban city can be tiresome at times. You can visit Simmons Island Beach to enjoy a nice, soothing bike ride or bask in the gentle sun. If you wish to stay longer, you can set up a tent on the beach.
Your kids will have a good time as well.
3. Elkhart Lake
Elkhart Lake is a stunning and unique beach site due to its deep, clear, spring-fed aquamarine water, where you can practically see the bottom and watch fish swimming. You can also engage in paddle boarding, kayaking, hydro-biking, and swimming.
Tour guides will also show you more about what the area offers. According to the Native American methodology, those who enjoy the clear water will find their spirits being soothed.
It is a popular vacation site with fantastic weekend getaway sports.
4. Bernie's Beach in Madison WI
Are you looking to enjoy a beach with a spectacular view? Bernie's Beach is one of the best beaches in Wisconsin, which is quite a modest neighborhood conveniently placed with great accessibility and a view of the Madison skyline.
You can also engage in water sports, including paddle boarding and kayaking, which are popular there. There are several amenities for your convenience, such as parking and lifeguards.
5. Big Bay Town Park Beach, La Pointe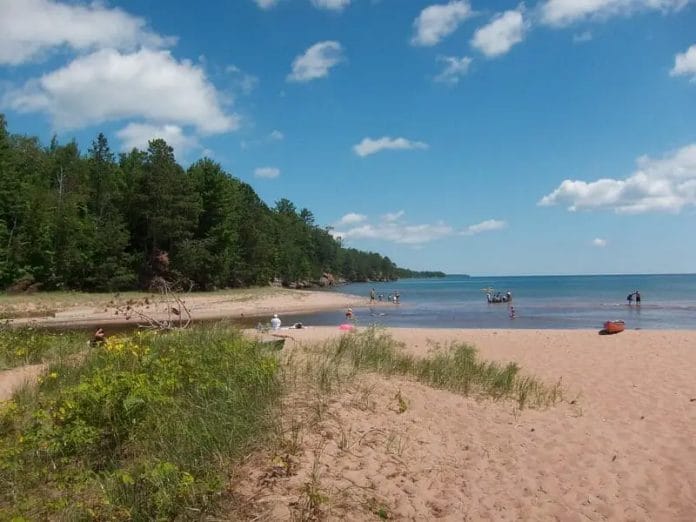 We all want a terrific time at the beach with our friends and family. To achieve these, try out Big Bay Town Park Beach, which will provide you with various fun activities in the sparkling water.
Aside from sunbathing and swimming, you can go kayaking, stand-up paddle boarding, canoeing, hiking around the neighborhood, fishing, and much more with your traveling companions.
6. Kohler-Andrae State Park, Sheboygan, Lake Michigan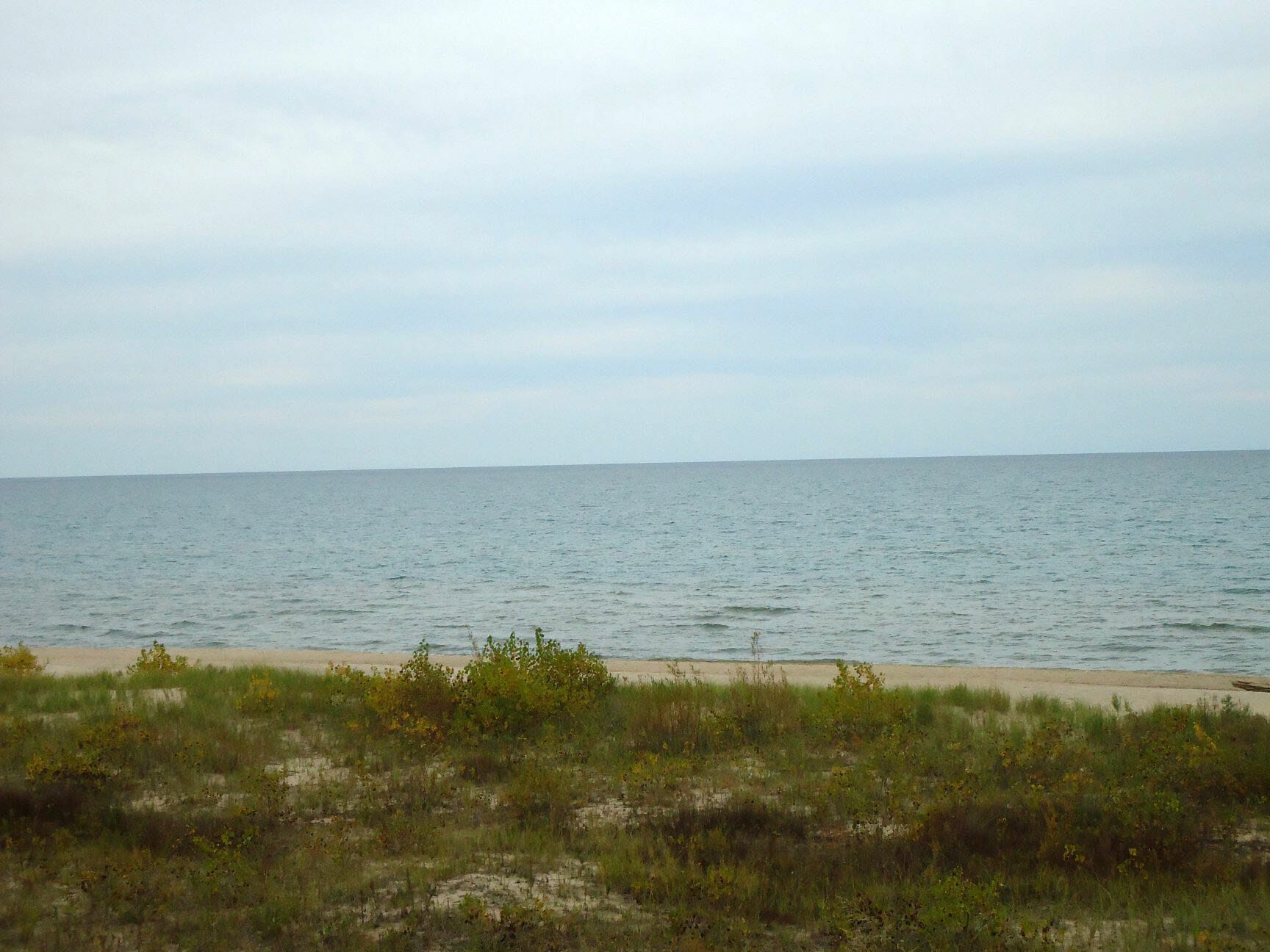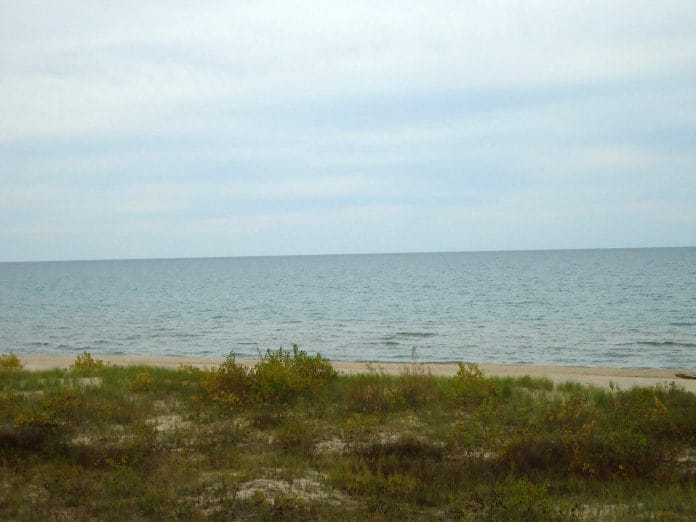 This state park is backed by miles of magnificent sand dunes that look amazing against the glistening waves on every sunny day. This is expected because most of Lake Michigan's region is covered by sand dunes.
You can also enjoy exotic plants within the marshes unique to this region and see over 150 bird species and some astonishing wildlife. You can have a fun picnic on this beach with local supplies from grocery stores and restaurants.
7. Nicolet Bay Beach
Peninsula State Park's Nicolet Bay Beach is one of the busiest and best beaches in Wisconsin. The park o situated in Wisconsin's fish creek, and this beach is the only available swimming beach with sand in the park, located in a little cove.
All the swimming zones are clearly defined, and the water can only goes up to your waist in these areas, making it ideal for you to carry along your kid. There are remarkable pathways in the park, and you can unwind as you explore the beach.
You can also go kayaking, or hire beach trikes on site. There are two cuts where you can participate in beach volleyball, and there are amenities to make your stay enjoyable.
Wisconsin is a great place to visit the beaches. The state has many beautiful beaches on its lakes, including Lake Michigan and Lake Superior. Visitors can enjoy swimming, sunbathing, and relaxing by the water.
There are also many opportunities for fishing, kayaking, and other water sports. So if you're looking for a summer getaway, be sure to check out Wisconsin's beaches!
What else to do besides the beaches
Wisconsin is a state in the Midwestern United States. It is bordered by Lake Michigan to the east, Illinois to the south, Minnesota to the west, and Lake Superior to the north.
Wisconsin is known for its dairy industry, as well as its production of corn, soybeans, and potatoes. The state capital is Madison, and the largest city is Milwaukee.
Wisconsin has a lot to offer visitors, from its natural beauty to its rich history and culture. Outdoor enthusiasts will enjoy exploring the state's many parks and forests, while those interested in the arts can visit the many museums and galleries in Wisconsin's cities.
And of course, no trip to Wisconsin would be complete without trying some of the state's famous cheese!
So whether you're looking for a relaxing getaway or an adventure-filled vacation, Wisconsin has something for everyone. Come and explore all that this great state has to offer!
What to take to the beach
If you're planning to visit one of Wisconsin's beaches, be sure to pack the following items:
Sunscreen
Sunglasses
Hat
Swimsuit
Towel
Picnic lunch
Hiking and camping
Wisconsin is home to many parks and forests, making it a great destination for nature lovers. There are numerous hiking trails of varying difficulty levels, so there's something for everyone.
And for those who want to spend the night in the great outdoors, Wisconsin also has plenty of campsites to choose from. So pack your bags and head to Wisconsin for a nature-filled vacation!
Exploring the cities
Wisconsin's cities offer a variety of activities and attractions for visitors. In Milwaukee, you can tour the city's breweries, visit its many museums, or take a walk along the scenic Milwaukee Riverwalk.
Madison is home to the state capital building as well as the University of Wisconsin-Madison campus. And in Green Bay, you can tour the famous Lambeau Field, home of the NFL's Green Bay Packers. So no matter what you're interested in, you're sure to find something to do in Wisconsin's cities!
Trying the cheese
Wisconsin is famous for its cheese, and for good reason! The state produces over 600 different types of cheese, so there's sure to be one that you'll love. From cheddar and Swiss to brie and blue cheese, Wisconsin has it all. And of course, no trip to the state would be complete without trying some of this delicious cheese!
So whether you're looking for a relaxing getaway or an adventure-filled vacation, Wisconsin has something for everyone.
In Summary
Wisconsin has an infinite number of beaches to choose from, in addition to the ones mentioned above. The state's excellent beaches will let you enjoy a good summer day.
I am sure you will have a good time regardless of which beach you choose to visit first, whether on Lake Michigan, Lake Superior, or Door County, or the Sheboygan.

Hi, I'm Ryan Nelson! I live in the Hamptons, out on Long Island, near Ponquogue Beach. The beach is a place where I can find peace and serenity. It's a place where I can sit and clear my head. The waves crashing on the shore somehow helps me to relax, while also reminding me that I am far from the stressors of daily life.