Who doesn't want an affordable beach vacation? It's no secret- Rehoboth Beach is an amazing and budget-friendly option. The gorgeous beach with green sea and white sand is the highlight of this amazing site. This area offers many additional activities in addition to magnificent vistas, making it a great holiday spot.
So, let's discover more about this perfect spot, Rehoboth Beach, which has fantastic hotels, amusements, tax-free shopping, historic towns, and some of the best restaurants in the world.
About
On the east coast of the United States, Rehoboth Beach is one of the most popular beach destinations. Rehoboth Beach, located on the Atlantic Ocean in southern Delaware, has been a favorite summer vacation spot for decades. A boardwalk runs parallel to the beach and is dotted with restaurants, stores, hotels, and amusements.
The Rehoboth Beach Bandstand hosts free summer performances. On the east coast, Rehoboth Beach is a fantastic destination for people of all ages, with great cuisine, beautiful beaches, plenty of family-friendly activities, and other interesting things to do. The fishing at Rehoboth Bay and Delaware Bay is also fantastic this season.
Spring Break is a fantastic time to visit Rehoboth Beach for people of all ages. This seaside location provides something for everyone, whether you're a family with children, a party of adolescents, or a group of young people. During your quick trip for spring break vacation at Rehoboth Beach, you'll find various activities to do for a brief getaway.
Rehoboth Beach hosts a variety of activities from late February through mid-April. During your spring break trip, there will undoubtedly be something to do. Make a note of one of the many culinary festivals, arts and crafts exhibitions, races, and other events. Spring breakers aged 21 and over will enjoy a drink, wine, or cocktail at one of the local pubs, breweries, or wineries in Rehoboth Beach. With wineries and breweries, you can treat yourself to some of the best craft brews and blends.
Rehoboth Beach will not fail you if you're searching for some excellent weather throughout your trip. Rehoboth Beach, Delaware, has a humid subtropical climate with hot and humid summers, chilly winters, and year-round rainfall.
Summers at Rehoboth Beach are hot and humid; winters are bitterly cold, rainy, and windy; and the weather is partially overcast all year. The temperature generally ranges from 29°F to 84°F throughout the year, with temperatures seldom falling below 17°F or rising beyond 90°F.
Where to Stay in Rehoboth Beach, Delaware
You're probably wondering where to stay in Rehoboth Beach, Delaware, now. So, don't be concerned. This coastal town has a plethora of inexpensive lodging options! You have the option of staying at five-star resorts or hotels with heated pools, or you may pick budget-friendly housing. Its resort sections run via Fort Miles are available all year for special events and visits to witness WWII weapons and fire control towers.
Stan Mills, the mayor of Rehoboth Beach, has ensured that anybody visiting the beach may enjoy a beach lifestyle. The Breakers Hotel & Suites are excellent choices for those who wish to stay near the ocean or within walking distance of the beach. Both the Atlantic Sands Hotel and the Brighton Suites Hotel are currently accepting reservations for your spring holidays. The point is that there are thousands of motels, condominiums, and hotels to select from in Rehoboth Beach, Delaware.
Popular neighborhoods: The views will not disappoint you if you are seeking attractive areas in Rehoboth Beach city to live in or simply explore. From its beautiful ocean vistas to its famed boardwalk, the Rehoboth Beach neighborhood offers the ideal beach experience. The picturesque area links rivers, scenic roads, local history, and historic sites, country inns, bed and breakfasts, motels, and antiquing and is hidden away between the southern side of Rehoboth Avenue and Silver Lake. To stroll through the North Rehoboth area, walk over to the northern side of Rehoboth Avenue and continue to the town of Henlopen Acres. If you're looking for a hotel, one of these regions will provide you with many enjoyable activities.
Camping Options
You must have been curious about the city's camping possibilities after reading so much about the gorgeous emerald green ocean and lively neighborhood of Rehoboth Beach. Let's face it: camping is the finest way to see a region, especially one famed for its stunning views and turquoise seas.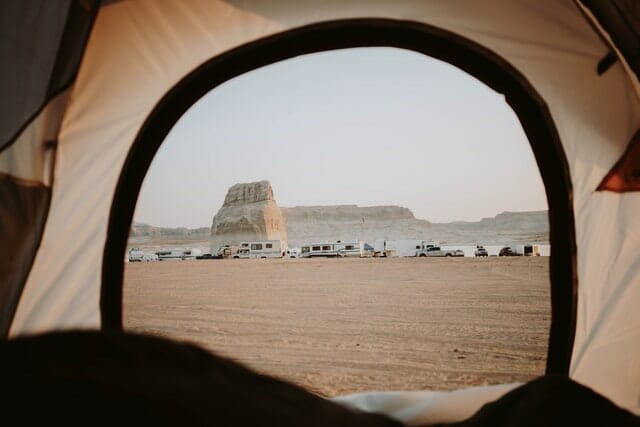 There are state parks that enable you to camp on the beach. It also gives you a great view of the blue-green sea. Furthermore, this is the most cost-effective hotel choice that will fit comfortably into your budget. So, if you want to see the city's exciting attractions, consider camping.
Popular Places To Dine
Whether on a day trip or an overnight vacation, one of the essential aspects of any journey is the dining options available. You can have all the cool things, but it might be a letdown if you don't have a nice spot to dine. You're in luck since this city has wonderful places to eat and a cozy restaurant where you can get everything you desire, from casual dining to genuine cuisine.
Rehoboth Beach and its neighboring villages have a plethora of excellent dining options. Seafood is the finest cuisine to acquire, as Rehoboth Beach is recognized for its seafood selections. Don't worry; food is available just about wherever in this beach town.
Attractions & Things to Do
Visiting the Beach
This one is self-evident, and it is why you're visiting Rehoboth in the first place. If you're in the mood for some sand and surf, the Rehoboth Beach region has lots of options. One of the most popular beaches is located right in the heart of the city. The colorful beach cottages are attractive.
The open-air concerts with musicians that perform during the summer are guaranteed to impress. The city's most well-known attraction is the Rehoboth Beach Boardwalk. Admire the beautiful splendor of the region by strolling down the one-mile-long Rehoboth Beach boardwalk or taking a beach bus. You may also play mini-golf or bounce about in bumper cars.
Gordons Pond
Gordons Pond is a beautiful Delaware hiking and biking trail. Gordons Pond Trail is an elevated boardwalk that allows the visitor to appreciate the scenery of the magnificent landscape. There are also beach chairs and tables available. A coastline is a breeding place for piping plovers, an endangered shorebird species, throughout the summer.
Jungle Jim's
The state of Delaware's largest water park is Jungle Jim's. A wave pool, water slides, an activity pool, a kiddie pool, and a lazy river are all part of the world's largest waterpark. It is a fantastic spot to visit if you're looking for things to do in Rehoboth Beach with kids. They include carnival rides and kiddie rides in addition to the water activities.
Enjoy Tax-Free Shopping
Do you enjoy holiday shopping? Rehoboth has a souvenir shop where you may indulge in some shopping therapy. Not only will you find lots of shopping opportunities, but you'll also save money because Delaware does not have a state sales tax. From Lewes to Dewey, Route One is lined with a gift shop, apparel store, and others. Here you can shop for your favorite brands at the lowest possible rates.
Clear Space Theatre Company
The Acting Company, The Arts Institute teaching program, and On Tour community programs are all part of the Company's three divisions. Attend a theatrical play if you're seeking romantic date ideas in Rehoboth Beach.
Eating Rehoboth
Eating Rehoboth is a delightful way to learn about the town's history. Visitors are taken on a tour of well-known culinary hotspots and given behind-the-scenes access to engaging with the chef. The three-hour walking culinary tour includes samples at five of the city's top eateries.
Rehoboth Beach Bandstand
The Rehoboth Beach Bandstand is a fantastic venue for live music and outstanding entertainment. The Summer Concert Series, which begins on Labor Day Weekend, is its most well-known event. The bandstand is a popular location for various concerts and activities during other times of the year.
Rehoboth Beach Museum
The Museum has two sections. The Anna Hazzard Tent House, which houses many local antiquities, is the first. In the late 1800s, it was utilized for a "Camp Meeting" meeting. The Ice House is the museum's other feature. It once had a significant economic role in the community and now houses several exhibits and collections of local history.
Dogfish Head Brewings & Eats
Rehoboth Beach's Dogfish Head Brewings & Eats is a well-known restaurant. It's known for being a testing ground for their brews, and it's usual to find beers there that aren't accessible elsewhere. Dogfish Head has launched a range of distilled spirits that includes gin, vodka, and rum flavors. Delicious oysters, fresh seafood, and classic beachfront fare await foodies, while a booming craft beer scene caters to beer connoisseurs.
Shell We Golf
Shell We Golf is not your typical miniature golf spot since each hole is surrounded by beautiful elements such as waterfalls, a living aquatic pond, invisible fish, shells, and beautiful water lilies. After playing, head towards this mini golf's next door for some decadent homemade fudge.
Delaware Seashore State Park
Delaware Seashore State Park is a swimming and sunbathing paradise with bathhouses, refreshments, umbrellas, chairs, and rafts. In approved places, cars may be driven right onto the beach for a peaceful day of fishing, while the wind and waves provide for excellent surfing and sailing.
Lupo Italian Kitchen
Lupo Italian Kitchen features a diverse cuisine and an impressive wine selection. Their wine bottles are reasonably priced, and guests may pair them with the famous Veal Parmesan or Chicken Parmesan dishes. Other items include Fresh Pasta, Grilled Artichokes, and Homemade Mozzarella, Marinated Olives, and Calamari for appetizers.
Funland
Funland is a place where the whole family can have a good time. Funland has nineteen rides, so there's something for everyone in the family. Classic rides like the carousel and bumper boats are just as popular as the Superflip and Freefall, which cater to the more daring riders. Their sixteen midway games are suitable for people of all ages.
Cape Henlopen State Park
Thousands of people go to Cape Henlopen's beaches to enjoy everything from ocean swimming, boating, fishing, and kayaking to clamming, paddleboarding, and windsurfing. Hiking trails, board sports, a bike ride, biking exploration, deep-sea fishing, and a perfect fishing spot are all available in the park.
In conclusion, Rehoboth Beach city provides various venues where you may have a good time. Visit this exotic and breathtaking place for your next vacation if you wish to spend some quality time with your entire family. Surely your trip will make this beach one of your favorite beaches.

Hi, I'm Ryan Nelson! I live in the Hamptons, out on Long Island, near Ponquogue Beach. The beach is a place where I can find peace and serenity. It's a place where I can sit and clear my head. The waves crashing on the shore somehow helps me to relax, while also reminding me that I am far from the stressors of daily life.