We all need to take some time off, and what better place than Siesta Key Beach? When was the last time you took a vacation? Vacations are significant for your mental health, but it can be hard to take off work. This list will give some ideas on how you can spend your vacation without having to leave Sarasota County!
Siesta Key Beach is one of the most beautiful beaches in all of Florida. Many people like to go there to relax, but you can also do some more exciting things during your time off.
About Siesta Key Beach
Siesta Key Beach is the best beach for tourists because of its natural beauty. The water can range from clear to turquoise, depending on the year, and it usually has good wave conditions during all seasons.
It is also located next to the Siesta Key Rookery, where you can see hundreds of sea birds nesting. They even have rookery tours that are offered every morning.
How Can You Get To The Beach?
You can get to Siesta Key Beach in several ways. Visitors who are not residents will most likely arrive with their rental car. There is plenty of free parking, and it is easy to get around because the beach and its attractions are close to roads and services.
Getting there by bus takes a little bit more work because the nearest stop on Sarasota County's regular transit network is located in front of Lido Beach.
You will then have to wait for another bus that is going to Siesta Key and hop on. Expect the trip to take about 30 minutes in total, and make sure that you plan because there is no mobile app for this transit service!
How Can You Get Around While On Vacation?
Suppose you do not rent a car while at Siesta Key Beach; we recommend using Lyft or a taxi. If you have never used a ride-sharing service before, don't worry! It is pretty simple. Download the app to your phone and sign up for an account using your credit card information linked to the app's interface.
Once you request a ride, it usually takes less than 5 minutes for someone to pick you up. The cost of the ride is determined by the time you spent sitting in between your pickup and drop-off locations.
If you plan to use taxis while at siesta key beach, be aware that only one agency operates within Sarasota County.
Weather
There are two main types of weather at Siesta Key Beach. You will likely experience both while you are there because it is Florida, after all! The first type is the hot summer sun. If you like to enjoy the sun without getting too much exposure, this weather is perfect.
You can also go swimming or snorkeling during this weather. You will experience the second type of weather at Siesta Key Beach if you go there during the fall or winter months. This type of weather is very comfortable because it has a softer breeze to make you feel less sunburned!
Where to stay in Siesta Key Beach
If you plan to visit Florida for a vacation, you will have many different options available to you. For those choosing Siesta Key Beach as their destination, there are many places to stay so that everyone can enjoy the perfect getaway! Here are some accommodations that we recommend:
Siesta Sands Resort
Although this resort is a bit pricey, it is entirely worth it for those who love to vacation in luxury. The resort has 806 guest rooms and many facilities, such as a massive pool with multiple hot tubs, an outdoor bar and grill, three restaurants, and two clubs.
For those interested in the casino experience, the Siesta Sands Resort offers one of the largest casinos in Sarasota County.
Siesta Key Beachside Inn
While this place is not quite as luxurious as the resort, it is still an excellent choice for those who like to get discounts on their accommodations. The Siesta Key Beachside Inn has everything you need while still being affordable and located directly next to the beach!
The 3 Cottages – If you are not comfortable sharing your living space, this is the best option. The 3 Cottages are three small separate houses that have their pool!
Where to eat in Siesta Key beach
There are many different types of food establishments available at Siesta Key Beach. Some of our favorites are listed below:
La Trattoria
If you are looking for Italian, then this is the perfect place for you! La Trattoria offers a classy atmosphere with great food and drinks. Many people call it one of the best restaurants in the area.
Burger & Lobster
After having fun at Siesta Key Beach, you will find that a nice juicy hamburger is just the thing to fill your stomach. If you are not too hungry, you can also order a side of their lobster rolls!
Frost Gelato
We all know that food tastes better when it is cold. Frost Gelato has some of the best gelato in Florida because they use natural ingredients to make the gelato right in front of you.
Take Out – If you are not interested in having a sit-down meal, many places on Siesta Key Beach offer takeout. You can order anything from Indian food to hamburgers.
Where to drink in Siesta Key Beach
If you are the type of person that loves a good locally brewed beer, you will be happy to know that there are plenty of places to do so! Sarasota County is one of the top counties for several craft breweries per capita.
These establishments have been rated as being some of the best places to drink in Florida!
The Daiquiri Deck
This restaurant and bar have the perfect view of the Gulf of Mexico. The menu offers fresh grilled seafood, steaks, sandwiches, and salads paired with various original alcoholic drinks. It is conveniently located on Tiki Row; therefore, it's never too crowded because you can choose your drink and walk around the corner to find a spot on the beach!
Surf Taco
Surf Taco is conveniently located in Siesta Key Village, right next to the strip of bars. It has a much laid-back vibe that makes it fun for everyone, no matter how young or old you are! They offer great Mexican food and drinks as well as live music and karaoke.
The Waterfront
This bar has a very upscale look; therefore, it is perfect for bringing your friends or a date! The menu offers burgers, fish tacos, and sandwiches to accompany any of their handcrafted alcoholic drinks. It also provides a fun environment by playing upbeat music with top 40's hits.
15 things to do in siesta key beach
This list will give you a wide variety to pick from when it comes to having fun on your vacation. As long as you stay in Sarasota County, there is no need to spend extra money by going out of town!
#1. Siesta Key Beach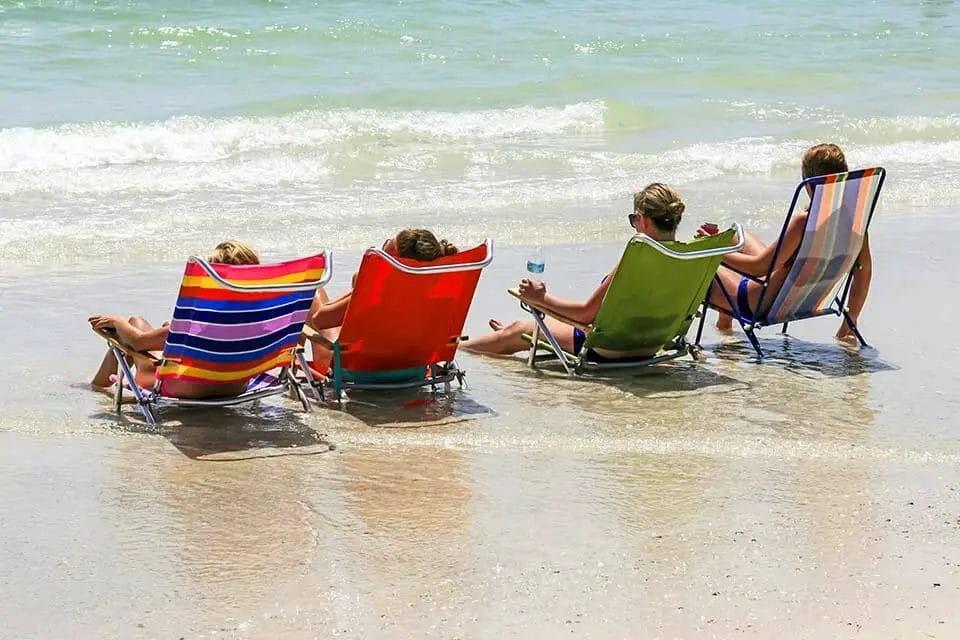 What would a Siesta Key Beach article be without mentioning the namesake?! It's a beautiful beach and is perfect for relaxing on. You can also go there to swim, snorkel, Jet Ski, or scuba dive if you want!
#2. Siesta Key Rookery
The Siesta Key Rookery is one of the best places to see some of Florida's wildlife up-close. Please take a tour with one of the many companies that offer them!
#3. Siesta Key Village
This is a great place to eat and shop. There are several restaurants and boutiques; we recommend checking out The Front Porch and Lolli and Pops for ice cream!
#4. Siesta Key Public Beach Access
If you like going to public beaches, then this is right for you! You can find it by turning into the entrance of Siesta Beach. There is parking available.
#5. Turtle Beach
This beach is perfect if you want to stay dry while on vacation. It is slightly secluded, so not many cars will pass by, or people will walk past you. If you don't mind spending a little bit on a small day pass, then this beach is for you.
#6. Siesta Key Dining
The restaurant selection you have while at siesta key beach will vary depending on where you go. We recommend going to either the Siesta Key Village or the north end of the beach. There, you will find tons of restaurants serving breakfast, lunch, and dinner.
#7. Siesta Key Public Parking Lot
If you are looking for parking near Siesta Key Beach but don't want to pay for a day pass at the public beach access, then this is where you will go! It's just across the street from the Village and has hourly rates.
#8. Siesta Key Roman Catholic Church
If you are interested in visiting a church while on vacation, then this one is for you! You can see it if you are near the north end of Siesta Key Beach. It is beautiful and has quite several stained glass windows.
#9. Birding at Myakka River State Park
This Park has many bird species, so bring your binoculars and enjoy. They also offer bird watching tours, so take on if you want to learn more about the area!
#10. Siesta Key Cinemas
If you're looking for some activity that is close to what you can do at home (and don't mind spending some money), then this might be right for you! The cinemas offer good movies, snacks, and drinks.
#11. Siesta Key Lighthouse
Have you ever wondered what it would be like to visit a lighthouse? If so, then here is your chance! You can see the descendants of the first two lighthouses if you stop by the north end of the beach. It is open during certain hours, so be sure to check them out before visiting!
#12. Siesta Key Public Library
If you are more of an indoor type of vacationer, then go here for some quiet time. They offer many programs and events (so be sure to check their schedules), but the main attraction is to get out of the heat and read.
#13. Myakka River State Park
This Park has a lot of different things to do, so it's perfect for people that like outdoor activities or nature walks. There are two lovely places where you can go swimming in this park; one is near the canoe rentals, and the other is near the birding trail.
#14. Siesta Key Beach Access Lot
This is another parking lot option for you to consider if you don't want to pay for the day pass at the public beach access. If that's not important to you, then this might be right for you! It is located near the Village and has hourly rates (so make sure it fits your budget!).
#15. Coffee on the Beach
This is one of our favorite places to go! It's right by the Village, so it's very convenient. The coffee here is served with a nice view (of the sea), so it's the perfect spot if you want to relax for a few minutes.
Conclusion
If you've ever wondered what it would be like to go on vacation and explore a new place, then this article is for you! You will find everything that we just told you about in the Siesta Key area. We hope that you enjoy your stay there!

Hi, I'm Ryan Nelson! I live in the Hamptons, out on Long Island, near Ponquogue Beach. The beach is a place where I can find peace and serenity. It's a place where I can sit and clear my head. The waves crashing on the shore somehow helps me to relax, while also reminding me that I am far from the stressors of daily life.