I always bring a waterproof tote to the beach because I know that no matter what happens, my things will be safe and dry. It is not worth risking your belongings in the pool or ocean water with just an ordinary tote bag.
I also like them because they are roomy enough to hold all of my necessities while I am at the beach – sunscreen, snacks, floaties for the kids, towels, and whatever else we need.
It is important for me that my things are protected even if it means carrying around a bit more weight than usual. Smart shoppers know that you should never let anything get wet when you go to the beach.
Protection from the elements is always important. When you're at the beach, it's important to keep your belongings dry and sand-free.
A waterproof tote is a great way to make sure you have a place for all your necessities in an unpredictable environment.
The 5 Best Waterproof Beach Bags
That's why we've put together this list of the best waterproof beach bags available today.
1. The ESVAN Original Waterproof Floral Tote Bag
The ESVAN Original Floral Tote Bag is a lightweight shoulder bag perfect for carrying your gym and beach essentials. It's made of high-quality outdoor fabric; the tote is water-resistant and can be easily washed.
The bag features a durable metal zipper and double zipper pockets, and versatile straps that make it perfect for everyone.
The ESVAN Tote Bag design is unique and feminine, with a beautiful floral leaf print in shades of pink, blue, and green.
The bag is made of high-quality materials and is exceptionally durable. It would be perfect for taking on vacation or using as an everyday bag.
The straps are adjustable and smoothly crease-resistant, making them comfortable to carry even when full. The bag has many pockets, including two zipper compartments.
One compartment is located on the front of the bag and zips closed, while you can find another inside the main compartment for added security.
The metal zipper opens to a roomy interior perfect for carrying everything you need. There are also smaller pockets inside, perfect for holding cell phones, wallets, keys, etc. This makes it easy to find items quickly without having to dump out your whole bag looking for them.
The ESVAN Original Floral Tote Bag is an excellent choice for anyone looking for a stylish and functional shoulder bag.
The high-quality materials and construction make it durable and water-resistant, while the many pockets make it perfect for storing everything you need. The floral leaf print is unique and pretty, making this bag perfect for any occasion.
Pros
Beautiful, feminine design
High-quality materials and construction
Adjustable and crease-resistant straps
Many pockets for storage
Video overview
2. The QOGiR Neoprene Beach Bag Tote
Are you looking for a stylish and functional beach bag? Look no further than the QOGiR Neoprene Beach Bag Tote. This bag is made of high-quality neoprene and polyester material, making it durable and easy to clean.
The unique classic design style looks exceptionally stylish and elegant, while the sailing rope handles provide strength and minimal stretch. The detachable shoulder pad also relaxes your shoulders.
Best of all, the beach bag is foldable to fit in a suitcase, making it easy to take with you on your next trip to the beach or pool.
The QOGiR Neoprene Beach Bag Tote is perfect for any summer activity. It has a large storage capacity, making it ideal for holding everything you need at the beach or pool for a day.
The easy-to-open zipper pockets make it easy to reach your belongings without having to dig them out of the bag, and the high-quality material is resistant to water and sand.
You also get an extra layer of protection from the weather with this beach bag since it is fully waterproof, protecting everything inside it.
Once you get back home at the end of a long day in the sun, throw your QOGiR Neoprene Beach Bag Tote into the washing machine and hang dry to clean up easily before using it again for another trip.
Pros
Large storage capacity
Waterproof and resistant to sand
Machine washable and quick-dry
Easy-to-open zipper pockets
Foldable to fit in a suitcase
Detachable shoulder pad
Video overview
3. The YETI Camino Carryall
The YETI Camino Carryall is the best waterproof duffel bag you will ever need on beach trips. The thick-skin shell provides excellent water resistance and durability, while the multi-functional pockets offer various storage spaces for essentials.
It comes with a detachable shoulder strap for easy carrying. Fold it up to save space without losing its form when it's not in use.
This bag is perfect for a beach, pool, or boat day. The waterproof and puncture-proof surface keeps your belongings safe and dry.
Lightweight design makes it easy to carry, even when full. However, there is no zipper on the side of the bag.
The Yeti Camino Carryall comes in multiple colors to give you an option to pick the most appropriate for your style.
It's durable, thanks to the high-quality materials used for its construction. This will be one of the most versatile bags in your vacation essentials arsenal.
Pros
Waterproof and puncture-proof
Multi-functional pockets
Detachable shoulder strap
Lightweight and easy to carry
Durable construction
Cons
No zipper on the side of the bag.​
Video overview
4. The KEHO Fashion Beach Bag
The KEHO Fashion Bag is a waterproof beach bag. It will make your day at the beach hassle-free because it has all of the things you need in one place, so you don't have to bring a bunch of bags with you. It comes with a waterproof interior lining and a waterproof phone case.
Over-the-shoulder handles allow easy carrying, while an interior waterproof lining ensures that everything inside stays dry and safe from damage caused by moisture.
The exterior fabric is soft and comfortable. One downside of this bag is the price. It might be pricy for what you get.
Pros
Waterproof interior lining & phone case
Comfortable to carry over the shoulder
Large enough to fit essentials for a day at the beach
Video overview
5. The SHYLERO Beach Bag and Pool Bag
The SHYLERO Beach Bag and Pool Bag is a must-have for anyone who loves spending time at the beach or pool. The bag is made of a durable, waterproof canvas-like fabric with rip-stop construction, which protects your items from getting wet or damaged.
The pack also comes with a water/dust/sand proof PVC case, which keeps your smartphone, tablet, credit cards, cash, jewelry, and other valuables safe and dry.
The fabric is super durable for a long-lasting experience. The bag is also roomy and has a big inner pocket and a waterproof interior lining.
It is sized to give you plenty of space to store your wet beach towels, outfits, lotions, lipstick, cosmetics, and magazines.
Pros
Includes a water/dust/sand proof PVC case
Collapses easily for storage and transport
Durable and waterproof fabric
Large and roomy design
Large inner pocket
Cons
No zipper closure
It may be too large for some users
Video overview
Buying Guide: What to look for when buying a waterproof beach bag
It's the middle of summer, and you've found yourself with a day at the beach, but you can't find your towel. Fortunately, you've remembered to pack everything else in your new waterproof beach bag! But there are so many options out there; what should you get?
1. Size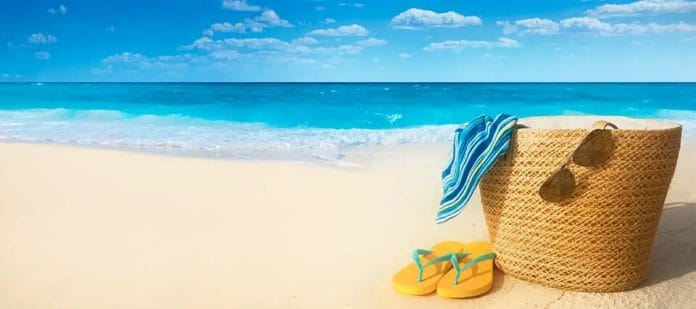 Waterproof bags usually come in three sizes: large, medium, and small. While some stores don't offer all three options, you can also find them on various bag sites and eBay.
If you're going on a long trip where you will be gathering lots of stuff for the day or going to a crowded beach with no locker rentals, then definitely choose an oversized waterproof bag.
They give you more space and fit all your belongings nicely. The disadvantage is they are heavier and harder to carry around without looking like a pack mule.
But if you're only going somewhere near the water where there's a good chance of drowning (kidding), then go with the medium size bag.
It works well for most people and keeps most of your stuff together without making it too heavy to carry. It also doesn't look ridiculous on a more petite body frame.
If you're not going far from the shore and you plan on staying near your towel most of the day, then get a small waterproof bag.
They're light and easy to carry around when you need them but don't fit much, so there's no chance in hell they will break under all that weight.
2. Material
Most waterproof bags are made out of plastic or other waterproof materials like nylon, polyester, or polyvinyl chloride (PVC). You can find ones made with cloth, but those aren't usually built for swimming purposes because water seeps in easily through the material itself.
Plastic is the best material to work with because it's durable, strong, and lightweight. But one thing you have to be careful of with waterproof plastic bags because they can break easily if you carry too many rough objects inside.
Another thing about the material is that the more porous it is, the easier it will let water in. So keep this in mind when shopping for a waterproof beach bag.
3. Zippers
Many of us are used to lockable zippers on our bags, but not all waterproof bags come with this feature, so this may or may not be essential to consider depending on how prone you are to losing things.
Lockable zippers are great for keeping your stuff dry, which makes them perfect for a beach bag, but they can also be a pain when you're in a hurry.
If you want to get a waterproof backpack with lockable zippers, then make sure that the zipper is big and easy enough to work with when wet.
4. Design
This one is entirely up to personal preference, but it's something to think about nonetheless. Do you want a solid color bag, or does it have patterns? Are there any straps or buckles? Is the material shiny?
These are all questions you should ask yourself before buying a waterproof beach bag because if you're someone who likes to match their accessories (or doesn't like loud prints), then going for a solid color might be your best bet.
And if you like to go for the straps and buckles, make sure that the materials are high quality and durable because those tend to break easily.
5. Prints and Colors
Now, if you're someone who likes to add a pop of color to their outfit or wants something different than the standard black or navy blue bag, then prints and colors are the way to go.
The only thing you have to be careful with is water and UV damage. If you're near the ocean, ensure that the colors don't run because saltwater can do a number on your clothes and bag.
And if you're going to be in the sun for an extended time, make sure that the paint doesn't fade because it won't look as pretty after a day in the sun.
Frequently Asked Questions (FAQs)
What's the difference between a small, medium, and large waterproof beach bag?
The main difference between the sizes is how much stuff they can hold. A small bag can usually only fit a towel, some sunscreen, and a water bottle, while a large bag can do nearly everything you need for a day at the beach.
Can I use a regular tote bag as a waterproof beach bag?
No, because regular tote bags are not made out of waterproof material.
What should I do if my waterproof beach bag leaks?
The best thing to do is to take your belongings out of the bag and dry them off. If the bag is still wet, you can put some rice in it and microwave it for about 10 minutes. This will help absorb the water inside.
Can I use a waterproof beach bag for other activities?
Yes, you can use a waterproof beach bag for other activities like hiking or traveling, but make sure that it's significant to fit all your stuff.
Why Using A Waterproof Bag Is Essential For Beach Vacations
When you go on vacation, you want to enjoy every moment of your trip. However, you also don't want to worry about anything getting wet. That's why you need to pack a waterproof bag. Here are some reasons why you should use a waterproof bag when going on a beach vacation.
1. It keeps sand from getting inside your bag
Sand gets everywhere. Even if you try to keep it contained, it still finds its way into your bag. This can cause all kinds of problems. Sand can damage your belongings, and it can even ruin your clothes. To avoid this, you need to pack a bag that has a waterproof lining.
2. It protects your valuables
Your bags are probably filled with things that are important to you. You might have expensive electronics, jewelry, or cash. All of these items are vulnerable to water damage. If you take them along on your vacation, you run the risk of losing everything. Instead, you should bring a waterproof bag so you can protect your possessions.
3. It prevents mold growth
Mold grows quickly when exposed to moisture. This can happen when your bag sits outside during rainstorms. Mold can grow on your belongings, which can turn them unusable. By packing a waterproof bag, you prevent this from happening.
How to choose the best waterproof backpack for your trip and tips on how to pack your bags properly.
STEP 1: Choose the Right Bag
When choosing a waterproof bag, first decide whether you want a daypack or a backpack. A daypack is smaller and lighter, so it's ideal for short trips. It also has fewer pockets, making it easier to carry everything you need. Backpacks are larger, heavier, and bulkier, which makes them ideal for longer trips. They also have more pockets, making them easier to organize and keep organized.
STEP 2: Consider What You Need
There are two main types of waterproof bags: ones made from nylon and ones made from polyester. Nylon is stronger and more durable, but it tends to get stiffer over time. Polyester is softer and more flexible, but it doesn't hold its shape well. Both materials are suitable for different situations. For instance, nylon is ideal for hiking and backpacking, while polyester is better for boating and water sports.
STEP 3: Decide Whether You Want One With Pockets or Not
Most waterproof bags come with either pockets or compartments. Some have both. Compartments are useful for organizing items inside the bag, while pockets are useful for keeping items outside the bag organized.
Conclusion
Going to the beach is a summertime tradition for many people. Beaches are a great place to relax, sunbathe, and swim.
However, if you're like most people, you probably don't want to bring your expensive electronic devices or clothes with you to the beach. That's where waterproof beach bags come in handy.
There are a variety of waterproof beach bags on the market, and it can be tough to decide which one is right for you.
So now that you know what to look for when buying a waterproof beach bag, hopefully, this article has helped you narrow down the choices. Just remember, make sure to buy one according to your needs and preferences because every person's priorities are different.

Hi, I'm Ryan Nelson! I live in the Hamptons, out on Long Island, near Ponquogue Beach. The beach is a place where I can find peace and serenity. It's a place where I can sit and clear my head. The waves crashing on the shore somehow helps me to relax, while also reminding me that I am far from the stressors of daily life.