There are a few nude beaches in Greece that are popular among tourists. These beaches are usually located near popular tourist destinations, such as Athens or Mykonos.
Nudity is generally accepted on these beaches, although there may be some areas where it is not allowed.
Be sure to check with the local authorities before you go to make sure that you are not breaking any laws.
So, let us dive in and look at some of the best nude beaches in Greece where you can enjoy your time in the water or sunbathe in the nude.
However, if you are a conservative, you can try to avoid these places during your stay in Greece.
Awesome Nude Beaches in Greece
1. Kape Nudist Beach, Cape Sounio
I could say that perhaps, Kape beach is the most scenic nudist beach located close to Greece's capital, Athens, with crystal clear waters. It lies just under the magnificent Poseidon temple on Cape Sounio, with a bar just next to the temple.
When at the bar, you can reach the clothed beach by descending the stairs and heading on your left. To the right is where you have the liberty of keeping your swimsuit on or not.
2. Livadi, Donousa
This is one of the most stunning beaches on the Cyclades, with particular consideration for nudists. Donousa is well renowned for its free campers, and Livadi is one of their favorite holiday locations.
Even though the area is popular and has lovely, clean oceans and a decent beach, it is not suitable for conservatives.
3. Kokkini-Ammos, Crete
Among the top six best nudist beaches in the world, Crete is well known for its renowned Matala and the top-notch nudist hotels on this vast island. The windless beaches of Kokkini Ammos are ideal for swimming without a bathing suit.
The beach, renowned for its untamed beauty and Blue Ocean, is one of the top six nudist beaches in the world. It is also well-known on international TV stations, which characterize it as a nudist beach that only the daring can explore.
4. Super Paradise, Mykonos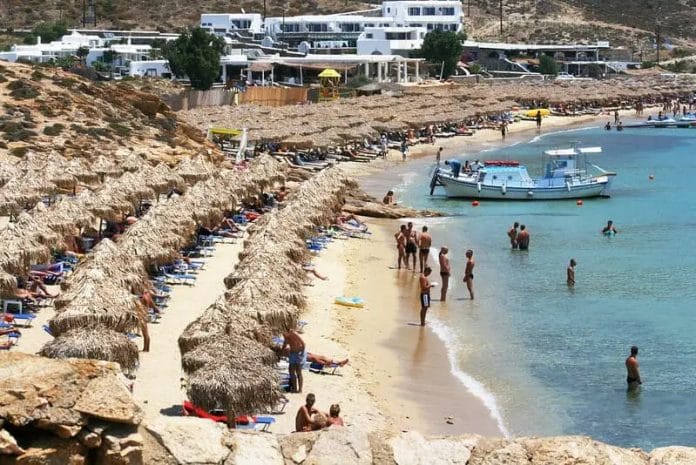 This beach is among the few nudist beaches where people enjoy swimming with or without their swimsuits.
The noisy Super Paradise awakens the mood for a wild party making it one of the best-known nude beaches in Greece. It borders the beaches of Paradise and Platis Gialos and is situated on the south side of the cosmopolitan island of Mykonos.
5. Plaka beach in Naxos
This area, found on the lovely island of Naxos, has the distinction of being hailed as one of Greece's top nudist beaches for swimming and sunbathing.
Plaka is a dreamy getaway from the rest of the world, thanks to its gorgeous white sands and turquoise waters. The southernmost part of the lengthy stretch of shore is where the nudist beach is located.
6. Faliraki of Rhodes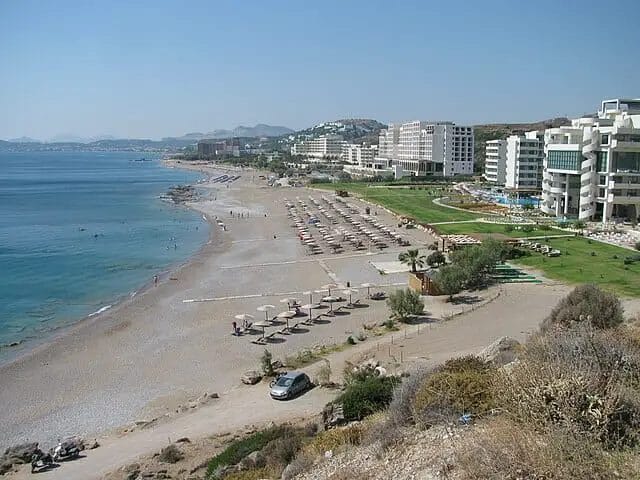 This famous and beautiful beach in Rhodes is among some of the best nude beaches in Greece. Faliraki of Rhodes is well known for its nudist beach, advertised by a sign as you approach, and numerous British tourists every year.
It is a well-organized beach with ample provisions of umbrellas and sun beds, among other necessary amenities to keep you comfortable. It is loved so much that during the high season months, it can quickly get overcrowded.
7. Kalamies, Paros
The same nature lovers, both Greeks, and tourists, favor it every year because it is one of the most serene and beautiful nudist beaches. It is not an exaggeration to suggest that individuals who go there each summer almost know one another.
Following the well-known Paros beach Kolimbithres and just before we arrive at the island's second famous beach, the Monastery is a little private beach with crystal clear water and plenty of reeds providing natural shelter.
More details
Most of us, without a doubt, find it difficult to remove our swimsuits and lay on the beach. Even on traditional Greek beaches, it is not uncommon to see women sunbathing topless, a sign of the country's free-spirited nature.
Because of its unending beautiful beaches and towering coastline cliffs, Greece is a place that would appeal to almost every traveler. It is also ideal for naturists who want to feel free to swim and sunbathe while naked.
Etiquette
If you do decide to go to a nude beach in Greece, there are a few things that you should keep in mind. First, be sure to bring plenty of sunscreen.
The sun can be very strong in Greece and you don't want to get sunburned. Second, be aware of your surroundings. There may be other people on the beach who are not wearing clothes, so you should be respectful of their privacy.
Finally, don't forget to enjoy yourself! Greece is a beautiful country and the beaches are just one of the many things that make it so special.
So, if you're looking for a unique and memorable experience, consider going to a nude beach in Greece. Just be sure to follow the tips above and you'll have a great time.
What to know before going
When planning a visit to a nude beach in Greece, it is important to be aware of the following:
Nudity is generally accepted on these beaches, but there may be some areas where it is not allowed. Be sure to check with the local authorities before going.
Sunscreen is essential, as the sun can be very strong in Greece.
Be respectful of other people's privacy.
Have fun!
Why Greece is a fantastic place for a beach vacation
The beaches in Greece are some of the best in the world, and the country is full of beautiful destinations.
Whether you're looking for a quiet beach to relax on or a bustling beach with plenty of activities, Greece has something for everyone. In addition, the people in Greece are incredibly friendly and welcoming, making it a great place to visit.
If you're looking for a beach vacation that is truly unique and memorable, consider going to Greece. You won't be disappointed!
Final Thought
If you've ever gone skinny dipping, you've experienced the height of freedom. If not, the moment has come for you to do so in Greece!
Body shaming and nudity taboos are so out of style in 2022. Dare to swim naked and enjoy the cooling, clear Greek sea on your skin!

Hi, I'm Ryan Nelson! I live in the Hamptons, out on Long Island, near Ponquogue Beach. The beach is a place where I can find peace and serenity. It's a place where I can sit and clear my head. The waves crashing on the shore somehow helps me to relax, while also reminding me that I am far from the stressors of daily life.