The average size of a beach towel is 30 x 60 inches
Compare that to your average bath towel which is 27 x 52 inches
If you want a larger beach towel, oversized options generally are 40 x 70 inches or larger, with this massive option from Bed Bath & Beyond clocking in at 84 x 84 inches
Compared to the dimensions of an average bath towel, which is approximately 27 inches by 52 inches, the standard beach towel is about 30 inches by 60 inches, with the highly sought-after oversize beach towel being around 40 inches by 70 inches or larger.
When the temperature is hot, most people look forward to the long summer weekends and holidays. The best way to enjoy yourself during summer is to stock up on all the necessities. One of them is, of course, a fantastic beach towel.
But how big should a beach towel be to get the most out of your time there?
Try A Compressed Beach Towel: Just Add Water!
Here's a weird one- a compressed beach towel. Now that is an efficient way to transport your gear to the beach!
A beach towel differs from a standard towel in a few key ways. Being just absorbent isn't enough for a towel. Good beach towels are designed to protect you from the beach's sandy surface.
It should also be large enough to allow you to relax and unwind- even on a rainy beach day.
A beach towel's size also relies on your own tastes and demands. A mother who needs more room to store her items or wants to keep her child close by while sunbathing might purchase extra-large beach towels.
If you want a really huge towel to relax on at the beach but don't want to pay the extra money for a large bath towel or perhaps an XL bath towel, large bath sheets, as well as XL bath sheets, will work just fine.
When shopping for a beach towel, keep in mind that thin as well as lightweight beach towels are much simpler to transport than thick and heavy beach towels. In addition, they dry more quickly than other fabrics.
What Is the Size of a Beach Towel?
Size of a Standard Beach Towel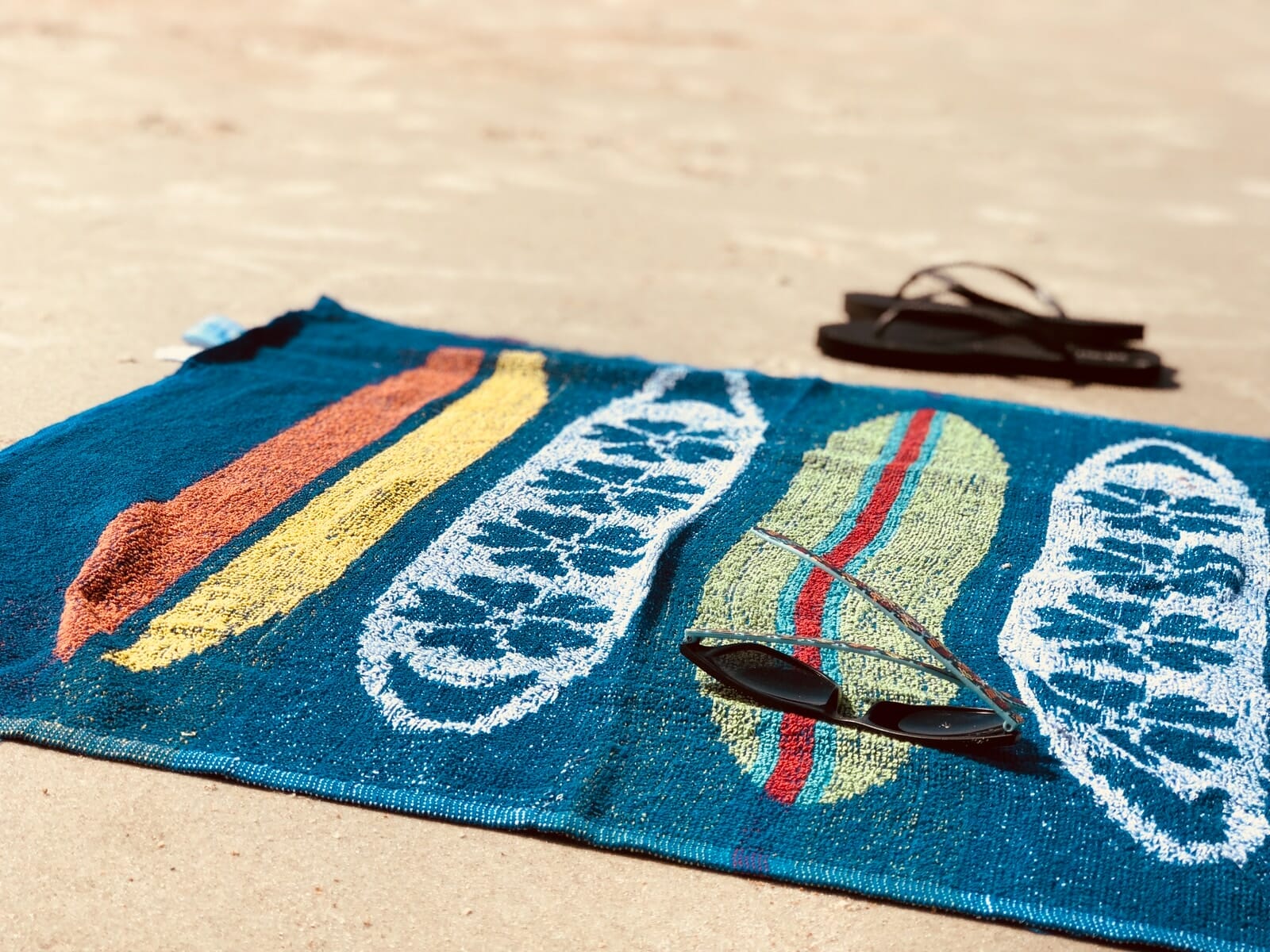 The size of a beach towel might vary from one to another, even if it's just by a millimeter or two. However, it is reasonable to assume that the typical beach towel size is around 60 inches by 30 inches, which is substantially larger than the usual bath towel.
This is due to the fact that these towels are clearly intended to be large enough to allow you to lay down comfortably while you're at one of our favorite American beaches.
Don't forget a rolling beach cart to transport your massive towel- you'll also need it for all the beach game equipment you're probably hauling.
Size of a Large Beach Towel
Extra-large beach towels, like the Avalon Luxe Beach Towel, are available if your ordinary beach towel is still too little for your needs. These are normally 70 inches wide by 35 inches long.
These beach towels are perfect for couples as well as small families, but if you really want to stretch out and unwind, you may get ones that are a little bit larger.
For instance, a 78 x 35-inch blue and white striped microfiber towel that can be found at most beach markets is large enough to accommodate two people comfortably- a great spot for some fun, beach social media poses.
Size of a Monster Towel
As a side note, the Monster Towel's dimensions are also worth noting because it is reported to be the biggest beach towel in the world at 120 inches × 120 inches (10 feet x 10 feet).
The fact that this one will take up much space on the beach does not diminish the fact that it will give you as well as your family with a great deal of space to relax and a great deal of space to spread out all of your possessions.
Would a Normal Towel Work Instead?
When it comes to beach towels, if you don't want to spend money on a new one, you may always use a bath towel since most people have many of them at home. There are several drawbacks to this type of towel, such as the fact that it is not ideal for the beach.
The reason for this is that they are usually smaller than the average beach towel, and they're also thicker than a standard beach towel, which implies that they can be uncomfortable to keep lying on in hot, sunny weather, and then they can become quite heavy once they get wet. They are also more expensive than a standard beach towel.
As a result, if at all feasible, you should consider purchasing a beach towel rather than a bath towel, as they are thinner and bigger in size, and therefore will dry off much more quickly than a bath towel.
Aside from that, they are also available in a wide variety of unique designs, as opposed to boring bath towels, which are typically plain one-color designs that are made to complement the decor of people's bathrooms.

Hi, I'm Ryan Nelson! I live in the Hamptons, out on Long Island, near Ponquogue Beach. The beach is a place where I can find peace and serenity. It's a place where I can sit and clear my head. The waves crashing on the shore somehow helps me to relax, while also reminding me that I am far from the stressors of daily life.