Home to some of the most amazing geological features and natural wonders, the United States has practically any kind of landscape imaginable. The boundless and infinitely beautiful beaches of Lake Huron are the ideal spot to be this summer.
Whether you want to soak up some sun, cool down in the waters dip a paddle, or spend some time with your kids, take a short drive to some of Lake Huron's best beaches. If you love the beach and live in Ontario this lake has plenty of options to offer.
Lake Huron is home to some of the most beautiful beaches in the world. The soft sand and gentle waves make it the perfect place to relax and enjoy the sunshine. I love spending a lazy day at the beach, reading a book and soaking up the sun.
The beaches around Lake Huron are also great for swimming, boating, fishing, and kayaking. You can also find some great surfing spots if you're looking for a challenge. I've spent many happy hours at the beach, and I know that you will too.
If you're planning a trip to Lake Huron, be sure to add the beaches to your list of things to do. You won't be disappointed.
Lake Huron's best beaches
Let us take a look at some of these beaches and why you should visit them.
1. Rogers City Lakeside Beach
This is one of the most popular kid-friendly Lake Huron beaches tucked away in the vibrant Rogers city. Also known as the Nautical City, Rogers City Lakeside Beach has very attractive silky sand that makes your stay more scenic.
There are basketball and volleyball courts, amenities, kid's playgrounds, a splash pad and a large pavilion. You can also visit the historic Sailor's Memorial in the park that commemorates the sailors who lost their lives on Lake Huron.
2. Starlite Beach, Alpena
This long sandy beach on State Avenue in Alpena, Starlite Beach is an ideal beach for a family summer day out. Your kids are sure to enjoy being on this beach. There are a number of amenities to keep you comfortable as you enjoy the sun and cool waters.
Your kids can play in the available large play structures and Splash Park and you can even set up a picnic.
3. Providence Bay Beach
If you're looking for a peaceful, unhurried destination with gorgeous lakes, rivers, and beaches, look no further than Manitoulin Island. Providence Bay has the largest fine sand beach on the island, which is why families will enjoy the shallow crystal-clear water; there's even a playground right on the beach.
The Mindemoya River meanders up towards the lake of the same name, or paddlers can explore the harbor. Take advantage of the beautiful boardwalk by strolling or watching the sunset there.
4. Mich-E-Ke-Wis Park in Alpena
Mich-E-Ke-Wis Park is a great place to spend a day at the beach, whether you're going for a swim or just to enjoy the sandbar. It's close to Starlite Beach, but its sandbar is what really sets it apart from other Lake Huron beaches.
The waters are great for canoeing and stand-up paddleboarding. But the sandy beach is popular for swimming and sunbathing. If you'd rather not get your feet wet, there are also BMX bike parks, volleyball courts, baseball diamonds, playground apparatus, and horseshoe pits.
5. P.H. Hoeft State Park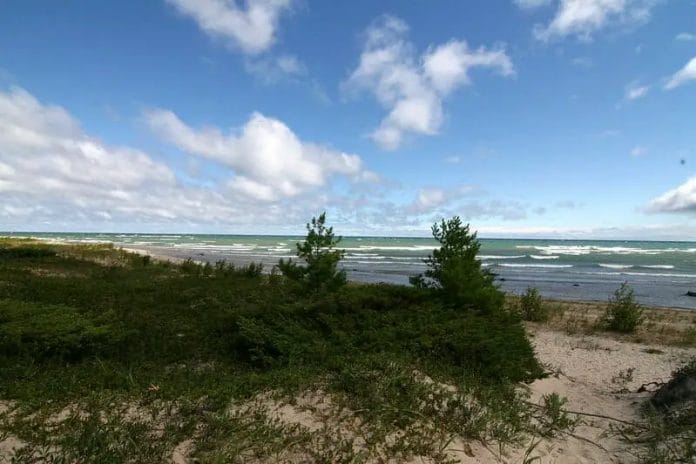 Lake Huron is a beautiful place to spend some time. You can enjoy some of its sand dunes at P.H. Hoeft State Park, which boasts beautiful paths for biking and trekking through the forest, as well as clear Lake Huron water that makes it the ideal place for swimming and splashing.
The park also has a children's playground nearby and the Lake Huron water is very clear, making it the ideal place for swimming and splashing.
6. Sauble Beach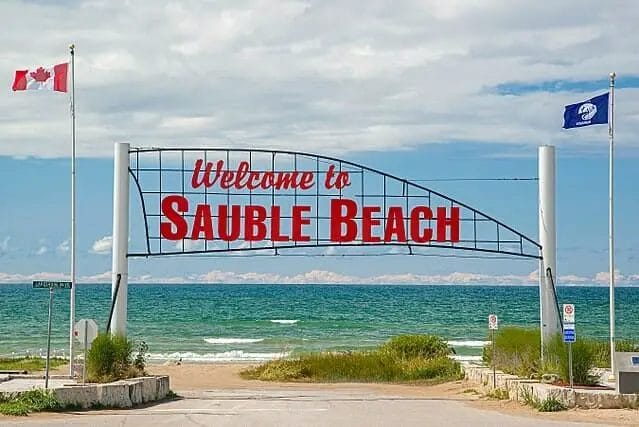 If you're looking for Lake Huron's best beach in Ontario, look no further than Sauble Beach. it's located on the Bruce Peninsula, and it stretches for kilometers—possibly the longest Lake Huron beach in all of the Great Lakes regions.
This beach is blessed with some of the softest sands you can hope to find anywhere in the Great Lakes region. The location receives some really wonderful weather for large portions of the year, delivering exactly the right conditions for sunbathing and other beach activities.
Even on a significant holiday you can always stroll little ways down from the throng and find a private location to listen to the waves
7. Hilton Beach
Hilton Beach is a hidden gem, set on the beautiful shores of St. Joseph Island at the top of Lake Huron. A buoyed area, swim raft, and picnic tables can be found at Forbes Community Park, which serves as the anchor for one end of the 1.5-km waterfront promenade in Hilton Beach.
Paddling enthusiasts can explore the uninhabited headland east of the town.
Lake Huron: visitor guide
Why visit Lake Huron?
Whether you're looking for a relaxing getaway or an action-packed vacation, Lake Huron is the perfect destination. With over 30,000 miles of shoreline, the world's fifth largest lake offers something for everyone. Enjoy swimming, boating, fishing, and camping in the summer months, and snowmobiling, cross-country skiing, and ice fishing in the winter. No matter what time of year you visit, you're sure to create memories that will last a lifetime.
What to see and do
There's no shortage of things to see and do around Lake Huron. Popular attractions include Mackinac Island (home to the world's tallest freshwater lighthouse), Sleeping Bear Dunes National Lakeshore (named "The Most Beautiful Place in America" by Good Morning America viewers), and the Soo Locks (one of the engineering wonders of the world).
If you're looking for some adventure, try your hand at kayaking, stand-up paddleboarding, or kiteboarding. Or, take a boat tour to see the famous Shipwreck Coast up close. Nature lovers will enjoy hiking, biking, and birdwatching in one of the many state parks or national forests.
Where to stay
There are countless places to stay around Lake Huron, from cozy bed & breakfasts to luxurious resorts. Whether you're looking for a place to relax or a basecamp for your adventures, you're sure to find the perfect accommodations.
Getting here
Lake Huron is located in the Midwest region of the United States, bordering the states of Michigan, Wisconsin, Illinois, and Indiana. The closest major airports are in Chicago, Detroit, and Milwaukee. Once you arrive, there are plenty of ways to get around, including renting a car, taking a bus or train, or hopping on a ferry.
No matter how you choose to spend your time at Lake Huron, one thing is for sure – you're in for an unforgettable experience.
My visit to Lake Huron
I had always wanted to visit Lake Huron. It was one of those places I had always seen on postcards and in photographs, and I knew that I had to see it for myself. Finally, the opportunity arose and I set out on a road trip to explore this beautiful part of the world.
The drive from my home in Ohio to Lake Huron was stunning. The landscape changed from rolling hills and farmland to lakes and forests as I got closer to my destination. I was excited to get there and start exploring.
As soon as I arrived, I could feel the beauty of the area. The lake was so vast and blue, and the sky was a deep, clear blue. There were so many things to see and do, and I spent every day exploring a different part of the area.
I hiked through forests, kayaked on the lake, toured lighthouses, and sampled local wines. I even went skydiving (which was definitely an adventure!) Every day was a new adventure and I loved every minute of it.
The people I met were friendly and welcoming, and everyone told me how lucky I was to be visiting at such a beautiful time of year. I couldn't agree more.
My trip to Lake Huron was an unforgettable experience, and I can't wait to go back. If you're looking for a place to relax, explore, and create lifelong memories, this is definitely the place for you.
Summary
Lake Huron has a lot to offer in terms of adventure and relaxation. The lake has a number of islands that are ideal for fishing, bird watching, hiking and picnicking.
Many people enjoy boating on this lake as it provides plenty of water sports opportunities including sailing yachts, pontoon boats, jet skis, and other watercraft.
In addition to enjoying all these activities on Lake Huron, you can also go camping at one of many state parks located along its shores where you'll find many types of camping facilities from primitive campsites with no electricity or running water up to modern campsites equipped with restrooms showers

Hi, I'm Ryan Nelson! I live in the Hamptons, out on Long Island, near Ponquogue Beach. The beach is a place where I can find peace and serenity. It's a place where I can sit and clear my head. The waves crashing on the shore somehow helps me to relax, while also reminding me that I am far from the stressors of daily life.