Whether you have had too much of the snow or are looking for warmer climates during Christmas, it is always good to know that Florida is a major destination come the wintertime months of December & January.
Florida is well-known for its long stretches of white sand beaches on the mainland and its lively atmosphere, and, of course, the numerous islands dotting the surrounding waters. The southernmost US territory enjoys pleasant year-round temperatures, even in December.
In December, you can avoid the crowds that begin to descend on Florida around the middle of January, which causes the cost of lodging to skyrocket. December is the best time to avoid the crowds and all the drawbacks of peak season.
(Have some fun on the beach with some of our favorite beach games: Kan Jam, Bottle Bash, BucketBall, CROSSNET, Jazzminton, and Tidalball.
Florida's winters are mildest in the continental United States, making them the best.
Average high temperatures range from 64 to 74 degrees Fahrenheit in January, the coldest month, while in December, the second-coldest month, the average is 66 degrees Fahrenheit, or 19 to 24.5 degrees Fahrenheit. Find out the nine warmest beached in Florida in December and January.
9 Warmest Florida Beaches In December & January
1. Caladesi Island State Park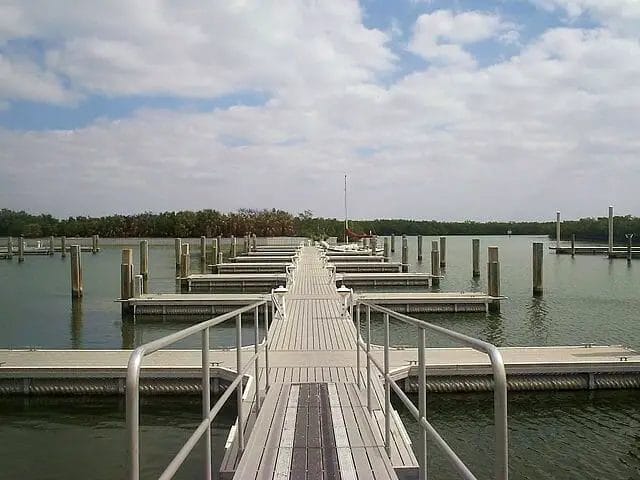 In the dead of winter, do you yearn to escape civilization and take in the sights and sounds of a pristine landscape? Caladesi Island State Park is a must-see. Caladesi, a barrier island off Dunedin, Florida, is one of the few remaining undeveloped barrier islands in Florida and is accessible only by boat.
Lie back on the pristine white sands or take a refreshing dip in the azure waters, even in the winter months, if you're lucky enough to be in the area on a sunny day.
2. Delnor Wiggins State Park Beach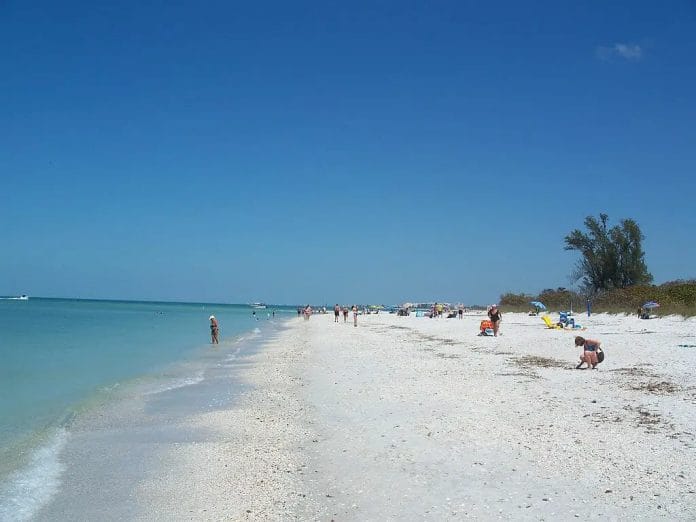 Beaches in Naples are known for their white sand and world-class resorts. In addition to some high-end shopping, this beachfront city provides a diverse selection of luxurious accommodations at reasonable prices.
In addition, it's perfect for both families and couples, and it's a great starting point for exploring the Everglades. Delnor Wiggins State Park Beach is the best place to go swimming and sunbathing in Naples in December when the average daily temperature is 77°F.
3. Grayton Beach State Park
It isn't easy to picture a better setting for a beach vacation than this portal to the Sunshine State's pristine beaches. In Florida's northwest corner, South Walton Beach is a great place to go for a walk or a swim in the pristine waters.
The water temperature won't be a problem for those who prefer a cool, refreshing swim.
It is a popular tourist destination and has been voted as the best beach in Florida.
The park offers visitors with many activities such as fishing, swimming, surfing, snorkeling, and kayaking. It also has a campground with RV hookups and tent camping sites available for visitors to stay overnight.
4. Tigertail Beach Park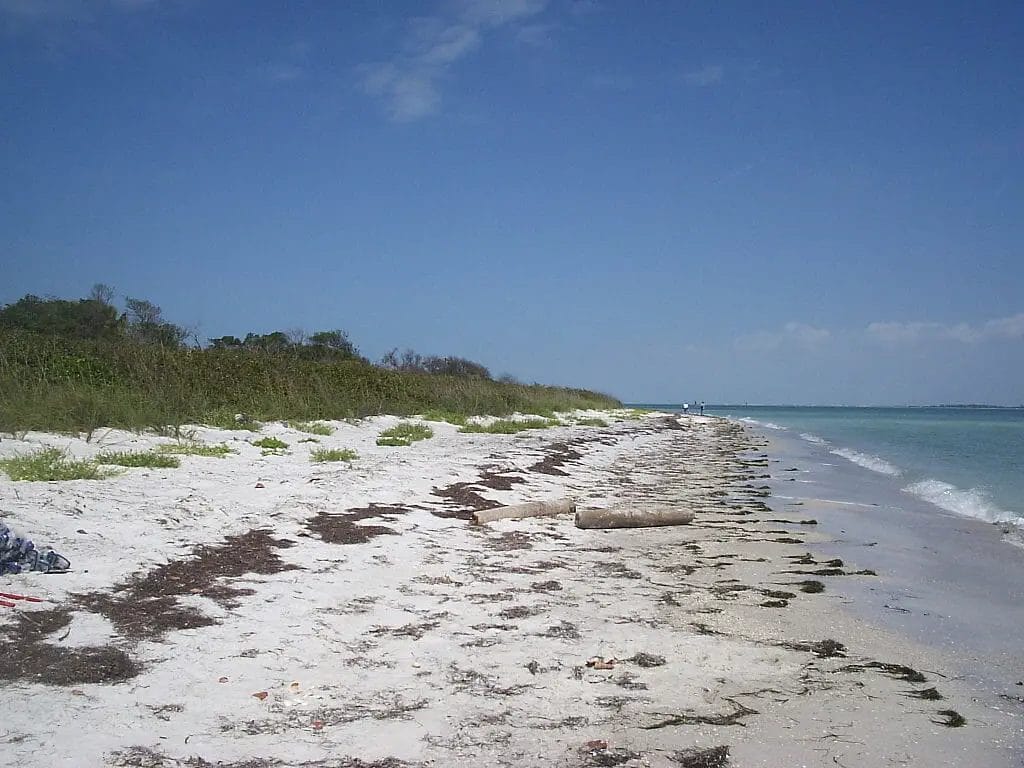 Marco Island, the largest of Florida's Ten Thousand Islands, offers a unique combination of excitement, relaxation, and breathtaking natural beauty to tourists in December. These stunning views can be found at Tigertail Beach Park.
Falcons, pelicans, and a wide variety of other birds can be observed in their natural habitat in this beach park, a haven for nature lovers. It's important to walk across the lagoons to get to the best part of this beach, where tides form from time to time.
With daily highs in the mid-seventies, you can expect plenty of sunshine and comfortable temperatures.
5. Fort De Soto Park Beach
If you're considering a US winter beach vacation, keep an eye out for the stunning Fort De Soto Park! De Soto is a Gulf of Mexico beach near St. Petersburg named the best for families by Parents Magazine in 2011.
Outdoor enthusiasts can enjoy a wide range of activities, including swimming, fishing, boating, and kayaking.
The shimmering waters of this white sandy beach are just a short walk away, and you can even camp out here overnight. Kids can also explore a fort from the Spanish-American War era.
The park offers many amenities such as picnic areas, playgrounds, and fishing piers. There are also many events that take place at this beach such as concerts and festivals.
6. Smathers Beach
As one of Florida's warmest beaches in December, this half-mile stretch of sand is eagerly awaiting any beachgoers. Key West's largest public beach can be found here on the Atlantic Ocean.
Clean and peaceful, it has a lot of amenities, including volleyball courts and Jet Ski rentals. Low humidity and sunny days with temperatures in the upper 70s are typical December in Key West.
7. Tigertail Beach
Tigertail Beach on Marco Island, Florida, is named for the curving spit that extends into the Gulf of Mexico like a tiger's tail. Wildlife-rich tidal lagoon ideal for paddle-boarding and kayaking can be found within its borders.
There may even be an area of sand all to yourself on the beach! If you're lucky, you might catch a glimpse of some dolphins playing in the water.
The beach is a great place to go birding because it has a trail that passes through a habitat home to more than 200 different species of birds. With a playground and other amenities, this park is ideal for families.
8. Bowman's Beach

Bowman's beach in Florida is a great place to go if you're looking for some quiet time. This is one of the whitest beaches on Sanibel Island, which is why it's so popular with tourists.
It's possible to set up a barbeque, sit down at a picnic table, or stroll along the nature trails if the beach gets too hot. Despite the high temperatures (around 80°F), you should be prepared for slight drops in temperature, especially as the sunsets.
Florida is a great warm vacation escape from winter. The state has many different climates and landscapes, so there is something for everyone.
9. Smathers Beach
The southwestern coast of Key West is home to a beautiful palm-lined strip of white sand, making it one of the warmest beaches in Florida during the winter months. With all of its conveniences, Smathers Beach is a great place to spend a day at the beach with the whole family.
You can relax on the beach, play volleyball or swim and snorkel in the shallow, temperate waters of this Key West's largest beach. Paddleboarding, kayaking, and parasailing are just a few of the exciting activities available to visitors.
Conclusion
It's winter in the northern hemisphere – time to start dreaming of all the offers waiting for you in Florida! Jumbo oranges, long, sunny stretches of coastline. And his is just the mild side.
The Florida Keys are a popular destination for tourists because of the beautiful beaches and coral reefs. The Everglades National Park is also a popular destination because it is home to alligators, crocodiles, manatees, and other wildlife.
Florida is a great warm vacation escape from winter. The state offers a variety of activities and attractions for all ages.
The Florida Keys are one of the most popular destinations in the state. They offer beautiful beaches, coral reefs, and plenty of opportunities for fishing, diving, snorkeling, kayaking and more.
The Everglades are another popular destination in Florida.
This subtropical wilderness is home to alligators, crocodiles, manatees and other wildlife that you can see on airboat tours or by kayak or canoe trips through the swamps.
On Florida's beaches, January is a popular time of year. Many people yearn for a winter getaway, so they head to the sweltering South. Florida enjoys year-round tropical temperatures, except for a few cold snaps in the winter. Some parts of Florida are warmer than others, making certain beaches more appealing for a vacation in January.

Hi, I'm Ryan Nelson! I live in the Hamptons, out on Long Island, near Ponquogue Beach. The beach is a place where I can find peace and serenity. It's a place where I can sit and clear my head. The waves crashing on the shore somehow helps me to relax, while also reminding me that I am far from the stressors of daily life.